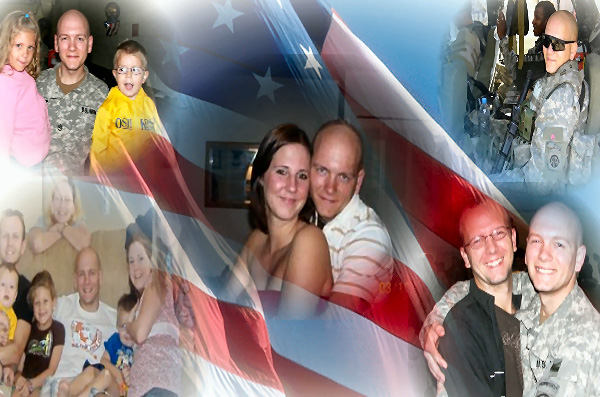 Twenty-six months after causing a horrific DUI crash that claimed the life of a young Army soldier, Ashley East stood before Lee County Circuit Court Judge Thomas S. Reese for her sentencing on February 15th. The Judge allowed friends and family from both the prosecution and defense sides of the case to step up and offer testimony about Army Staff Sgt. Danny Beougher, his wife, Lauren, and East, the defendant. While the judge listened patiently, sobs from family members on each side of the case could be heard throughout the courtroom.
Sgt. Beougher was killed Dec. 8, 2007 on Hancock Bridge Parkway in North Fort Myers, while home on leave. His wife, Lauren Beougher, was critically injured when authorities allege a truck driven by East, 26, crossed the median and slammed into the Beougher's Jeep Cherokee as they headed home for the holidays. Their car was filled with Christmas presents for their family.
Judge Reese noted that he "almost found it incredible" as he referred to comments made by East following the crash. East had stated that "she was only doing what everybody else does" when she made the decision to drive drunk that night. He said in his pre-sentencing statement that while East had testified that "she felt she was a victim of society and the media", and she expressed "sincere regret for the accident she caused," he felt the incident should not be categorized as an accident at all. Reese admonished East by saying her actions "killed a person, and almost killed someone else", and "she alone was the person responsible for causing the crash."
The Judge and the prosecution, personal injury lawyers from Associates and Bruce L. Scheiner Personal Injury Lawyers, P.A., also pointed out that East had previously been convicted of 7 counts of driving on a suspended license, and that her history of past discretions were those of a criminal, not merely a person who made a single error in judgment. East did not possess a valid Florida driver's license at the time of the crash. Judge Reese imposed a sentence of 25 years in prison for the crime of DUI manslaughter, and individual sentences for leaving the scene of an accident with bodily injury and driving without a license. The sentences will run concurrently. East will also spend 5 years on drug offender probation upon completion of her sentence, with mandatory drug and alcohol testing, addiction counseling and rehabilitation. When East completes her sentence, she will never be allowed to have a Florida driver's license for the rest of her life. East and her family and friends testified that "she was a good person", and at the end of the sentencing she asked Judge Reese if she could hug her family before being remanded to state custody. The Judge denied her request.
"This case is a startling example of the serious consequences of drunk driving, and a reminder that driving while under the influence of drugs or alcohol can result in tragedy, forever altering the lives of everyone involved," says Bruce Scheiner, founder and senior attorney at Associates and Bruce L. Scheiner, Personal Injury Lawyers. "We urge you to think of Sgt. Beougher and his widow and family the next time you are considering drinking and driving."
Associates and Bruce L. Scheiner, Personal Injury Lawyers, represents the civil rights of the estate of Danny Beougher as well as Lauren Beougher and the Beougher family. The firm also has helped the family through the criminal process and dealt with extensive media coverage following the tragedy.
If you or a loved one has been injured or killed due to the negligence of a drunk driver, contact our firm at 1.800.DialBLS or visit www.focusedonjustice.com
For updates on this topic and others, subscribe to the Florida Injury Lawyer blog at the top of this page.