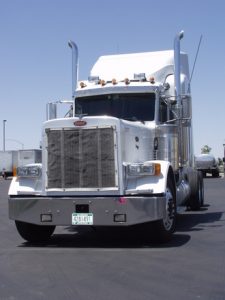 Safety advocates are asking what can be done to make the roads safer in the wake of a deadly tractor-trailer collision this month that claimed the lives of 5 boys traveling to Disney World in a church van.
The Ocala Star Banner noted South Florida's burgeoning growth has put tractor-trailers and other large commercial vehicle traffic at increasing odds with other motorists on the road, making trucking accidents in Southwest Florida a growing threat. In this most recent incident, a tractor-trailer burst into flames after colliding with another vehicle, before running through the median and into oncoming traffic, where it struck the church van and another tractor trailer. Seven motorists were killed and eight others were taken to the hospital with serious injuries.
While we recently wrote about highway traffic safety on our Florida Injury Lawyer Blog, the fact remains that motorists are largely at the mercy of large tractor-trailers when driving on the interstate or on many of Southwest Florida's main thoroughfares. Economic growth and the birth of the delivery economy continues to put an increasing number of commercial trucks on our highway and byways, and even on suburban neighborhood streets, where pedestrians and cyclists face increased risks.