Safety officials are looking into a new traffic system to help to prevent pedestrian accidents at a busy intersection in Naples. Bicyclists and pedestrians who cross Weeks and Bayshore Avenue are at some serious risks for accidents and injuries as many drivers fail to stop at the crosswalks. City officials have already tried to head off these accidents, but the efforts came up shorthanded. Now, the intersection comes with the HAWK system. This is a first of its kind in Collier County. It's a light that stays off until a pedestrian comes by and activates it. When a walker or bicyclist approaches, the light turns on and works much like a stop light.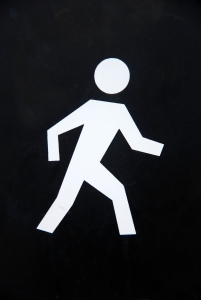 Our Naples pedestrian accident attorneys understand how important it is for us to be on the lookout for pedestrians and bicyclists when driving near and through intersections. Pedestrian crashes occur most frequently in urban areas where pedestrian activity and traffic volumes are greater compared to rural areas. The National Safety Council estimates that more than 84 percent of all non-fatal pedestrian crashes in the United States occur in urban areas and close to 14.5 percent occur in rural areas.
How does it work?
First, a flashing yellow light will work to alert drivers that a pedestrian is waiting to cross the road. When the light turns to a solid yellow, drivers need to be ready to stop. Next, the light will turn to a solid red with a "WALK" symbol for the pedestrian. The pedestrian is then allowed time to cross. Next, the light will change to a flashing red and a "DON'T WALK" symbol. During this time, drivers are allowed to pass through the flashing red light after making a complete stop.
According to NBC2, there's an accident at this intersection almost every day.
"They've done various things to try and (get) vehicular traffic's attention," said Connie Deane with the Collier County Growth Management Division.
In the Sunshine State, there were close to 500 pedestrians killed in traffic accidents in 2010. These kinds of accidents continue to be an ongoing concern, as officials with the National Highway Traffic Safety Administration (NHTSA) report increases in both 2011 and 2012. Many of these accidents are the result of driver inattention. Drivers simply aren't paying attention to our more vulnerable, on-foot travelers.
The truth of the matter is that Florida continues to be the most dangerous state for these kinds of accidents. As a matter of fact, our state holds 4 of the top 5 most dangerous metro areas in the entire country when it comes to pedestrian accidents, according to Transportation for America.
With the New Year, we're asking drivers to renew their attention for pedestrians. We are entering the busy season and tourists will be arriving in droves. With the beautiful weather that we get to enjoy here, we can bet there are going to be an increasing number of pedestrians.

Associates and Bruce L. Scheiner, Attorneys for the Injured, is a law firm dedicated to helping those who have been injured in pedestrian accidents in Fort Myers, Bonita Springs, Cape Coral and elsewhere in the South Florida area. Call us today for a free and confidential consultation to discuss your case. 1-800-283-2900.
More Blog Entries:
Distractions: Increasing Pedestrians' Risks for Serious Accidents, Florida Injury Lawyer Blog, August 11, 2012
Pedestrian Accidents in Lee and Collier County Up in February, Florida Injury Lawyer Blog, February 25, 2012