The Florida Department of Highway Safety and Motor Vehicles reports fewer traffic fatalities occurred in the Sunshine State in 2010 than at any time since the 1970s. A total of 2,430 traffic fatalities were reported in Florida last year — five percent fewer than the 2,563 reported in 2009.
Debate continues over whether traffic deaths will begin to increase again with the economic recovery. The National Safety Council reports a four percent decrease in accidents nationwide last year, although about a dozen states, primarily in the Midwest, had increases last year for the first time since the start of the Great Recession.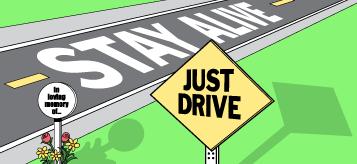 Southwest Florida mirrors that trend.
The News-Press reports 104 of those fatal traffic accidents occurred in Lee and Collier counties. A total of 64 people died in Lee County car accidents — a twelve percent decline over 2009. However, Collier County car accidents claimed forty lives, one more than 2009.
Jay Anderson executive director of "Stay Alive Just Drive," said education and better enforcement have made an impact when it comes to reducing traffic fatalities, regardless of the economic downturn. He points to the fact that fatalities have decreased despite little change in total vehicle miles traveled.
"The education and awareness component has become paramount," Anderson said. "The key word here is prevention."
However, when it comes to prevention, Florida lawmakers have done little. The Governors Highway Safety Association reports that Florida is one of just a few states that has passed no laws preventing drivers from text messaging or using cell phones while driving. Eight states forbid drivers from using hand-held cell phones at all. Thirty states prevent drivers from text messaging.
Florida is one of only about five states with no such laws on the books. And Florida is one of the only states that has passed a law forbidding local governments from establishing their own bans. That law, which passed in 2002, prevents Fort Myers from passing its own cell phone ban, Anderson said.
"The thing that scares me today is that all cell phone will become smart phones," Anderson said. "Some of the behavior that we observe now, it's no longer just using the cell phones and texting — it's responding to emails. Posting onFacebook. Googling. Playing games. Using it as a GPS. All these things detract from operating an automobile."