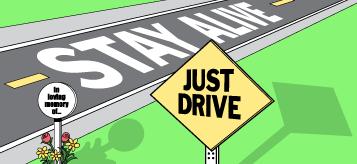 A new education program aimed at increasing awareness of the dangers of distracted driving is now available in Southwest Florida.
Florida injury lawyers and personal injury attorneys routinely handles crashes caused by distracted drivers and urge motorists to pay attention to the road for their own safety and the safety of those around them. Distracted driving often contributes to car accidents, motorcycle accident, trucking accidents, and accidents involving bicycles and pedestrians throughout Southwest Florida.
The program — offered by "Stay Alive… Just Drive!" and its founder, retired Fort Myers-area paramedic Jay Anderson — is available for purchase or for presentation to non-profit and other groups as an educational resource.
"It's a very comprehensive presentation aimed at raising the awareness of distracted driving in all forms," said Anderson, who likens distracted driving to driving while impaired by alcohol or other drugs.
Anderson is supporting Heather's Law — Florida Senate Bill 172, which will be debated in the upcoming spring session of the Florida legislature — which would make it illegal to talk on the phone or text message while driving.
"Results of various studies have proven the dangers of distracted driving and obviously people are not going to make an attempt by themselves," said Anderson of the law. If passed, Florida would join half-a-dozen states with similar restrictions.
The law is named for a Florida teenager who was killed in a crash with a truck driver, who was allegedly text messaging at the time.
The distracted driving presentation "LOL I"M NT BSY I'M ONLY DRIVING," takes about 60 minutes.
Anderson said the typical driving distraction lasts three seconds — enough time for a car going 45 mph to travel more than half the length of a football field.
A 2006 study of 100 drivers by Virginia Tech Transportation Institute found driver distractions are the cause of 80 percent of vehicle crashes and 65 percent of near misses.
Those wanting more information can call "Stay Alive … Just Drive!" at (239) 340-8693.

There are things you can do to help protect your rights if you or someone you love has been seriously injured or killed in a car accident or other traffic collision. The Florida Injury Lawyers offer free appointments to discuss your case at offices throughout Southwest Florida, including Fort Myers, Cape Coral, Naples, Port Charlotte, Sebring, Arcadia and Venice.