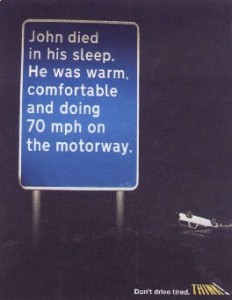 Trucking company owners are pushing their drivers to exhaustion. In the United States, driver fatigue causes up to 40% of all truck crashes, according to the National Highway Traffic Safety Administration. To help reduce the estimated 56,000 sleep-related crashes in the USA, the federal government limits the time a trucker may drive to 10 consecutive hours. A minimum 8 hours rest is required after driving for 10 hours. The rules permit truckers to spend 16 hours driving during any 24-hour period.
Trying to circumvent the rules, however, some owners have falsified company logbooks to conceal that their drivers exceeded the maximum allowable number of daily driving hours. The crash risk doubles from the eighth to the tenth hour of driving, and doubles again from the tenth to the eleventh hour. According to one judge who sentenced a trucking company owner to a year in prison, by falsifying records he "created a conscious risk of death or serious bodily injury." After any crash involving a truck that injures a client, Associates and Bruce L. Scheiner, Personal Injury Lawyers will examine the driver's records to determine whether fatigue played a factor.
Whether a truck or a car, if you're behind the wheel for long periods, combat fatigue as follows:
• Plan for breaks and layovers
• Take frequent rest stops, at least every 2 hours.• Limit driving between 2 a.m. to 6 a.m., an especially dangerous time.• Avoid driving when you'd normally be asleep.

• Beware of medicines causing drowsiness.
If you've been injured in an accident, call Associates and Bruce L. Scheiner, Personal Injury Lawyers at 1 (800) Dial.BLS or log on to www.dialbls.com Fighting for justice since 1971; you pay us nothing unless we win.