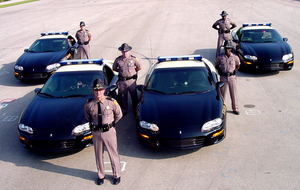 Over the five day Thanksgiving Holiday period, the Florida Highway Patrol instigated a crackdown on Florida's roads and highways. Statistics have shown that this holiday is the deadliest time of the year for drivers, due to the increased traffic caused by the large numbers of drivers traveling to family gatherings statewide. Unfortunately, alcohol and drug-impaired motorists are also more prevalent during the peak Thanksgiving travel period.
Because budgetary constraints are hampering the number of officers the FHP has on area roadways, administrative personnel were assigned road duty to assist with the Thanksgiving crackdown. The agency reports that 21 people lost their lives over the holiday period. Just under 8,000 citations were written, with almost 6,000 issued for speeding offenses. Additionally, 157 arrests were made for driving under the influence.
"The Florida Highway Patrol enhanced our patrols to remove unsafe drivers from the streets so that families could reach their destinations safely and enjoy the holiday with friends and loved ones," said Colonel John Czernis, the agency's Director. "Throughout the holiday season we will continue our enhanced enforcement efforts, with special emphasis on impaired drivers. Motorists should always designate a sober driver if they plan to consume alcohol."
The FHP also issued almost 1,400 citations for seat belt violations, and directed troopers to be on the alert for aggressive drivers.
"Although people may assume that New Year's Eve is the holiday most likely to involve an increase in drunk drivers, Thanksgiving has proven to be more problematic," says Bruce L. Scheiner, founder and senior attorney at the law firm of Associates and Bruce L. Scheiner Personal Injury Lawyers, P.A. "Drivers need to know, particularly with the Christmas Holiday coming up, that every law enforcement agency is stepping up their aggressive patrols in a concerted effort to remove impaired drivers from the road, and allow people to get to their destinations safely."
The personal injury lawyers at the firm have seen the devastation that a serious injury or even death caused by a drunk driving crash can bring to a family. They work closely with the Lee County Sheriff's Office, along with Mothers Against Drunk Driving, (MADD), supporting their efforts to keep drunk drivers from getting behind the wheel. If you have been injured by a drunk driver, contact Associates and Bruce L. Scheiner Personal Injury Lawyers at 1-800-Dial-BLS or visit www.focusedonjustice.com.