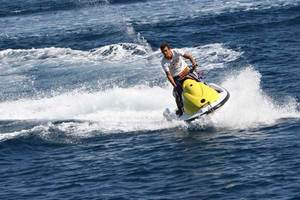 This weekend is Labor Day weekend. Be careful!
With ready access to so many bodies of navigable water in and around Southwest Florida, it comes as no surprise that accidents involving personal watercraft are common. Sometimes referred to as "jet skis" or "water bikes", these forms of aquatic transportation are plentiful on our area waterways, and their capability for speed can make an unsafe operator and those around him prime candidates for a serious injury.
In 2001, there were 309 PWC accidents in Florida. Of those, 121 were caused by the careless or reckless driving of the vessel's operator.
Florida personal injury lawyers remind you that not only are owners of PWC at risk for a serious accident, but Florida is home to many rental outlets which rent the powerful vessels to vacationers who may have never operated one in their lives. To that end, the Florida Fish & Wildlife Commission has published their JetSmart Handbook, a valuable resource filled with operational safety information developed to make PWC use a safe recreational activity. The main section relating to PWC Rentals states:
"A person must be at least 18 years old to rent a PWC in Florida. A rental facility shall not rent any vessel that does not have proper safety equipment on board, exceeds the recommended engine horsepower or load capacity (as stated on the capacity plate), or is not seaworthy. The facility must provide pre-rental or pre-ride instruction on the safe operation of the vessel if it has a motor of 10 horsepower or more. All renters are required by law to have a boater education ID card, must have the card or its equivalent in their possession and display it before the facility may rent to them. PWC rental agents must provide an on-the-water demonstration and a check ride to evaluate the proficiency of renters. All liveries must display boating safety information in a place visible to the renting public. PWC rentals must display safety information on the proper operation of a PWC. The information must include: propulsion, steering and stopping characteristics of jet pump vessels, the location and content of warning labels, and how to properly re-board a PWC. This instruction also must include the applicable Navigational Rules to PWC operation, problems with visibility and being seen by other boaters, reckless operation, noise, nuisance, and environmental concerns while operating the PWC on Florida waters".
"Florida is a great place to enjoy a multitude of water sports, and boating is by far the most popular", says attorney PJ Scheiner of Associates and Bruce L. Scheiner Personal Injury Lawyers. "Personal watercraft safety is a serious concern. It is the responsibility of those who rent watercraft to the novice operator to insure the watercraft is used in a lawful manner. This would help prevent what could be a serious accident on the water."
If you or a loved one is injured, contact Associates and Bruce L. Scheiner, Personal Injury Lawyers. Focused on justice since 1971.