As we embark on another school year, transportation safety is at the forefront of parents' minds as they send their kids off to school each day. The good news is, school buses are one of the safest modes of travel for young people. However, that does not mean there is no risk of an accident. The 2014 school bus accident in Nassau County is proof.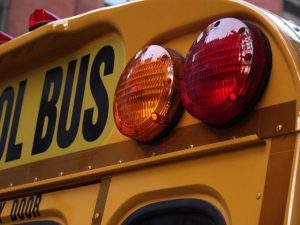 Today, the man driving the logging truck that slammed into that packed school bus is now serving a 20-year prison sentence. Although he pleaded no contest to the charges of reckless driving and serious bodily injury, he blamed his former employer, Mo's Trucking, for failure to properly maintain the truck. The tractor-trailer rig rammed into the school bus as it stopped to drop off students on a rainy afternoon. Seven of the students were seriously hurt, though authorities say it could have been much worse if the 37-year-old bus driver hadn't suddenly stepped on the gas as she realized what was about to happen as the truck barreled toward the rear of the bus.
Although thankfully all survived, the crash was described by those who saw it, "horrific." The truck driver was reportedly operating erratically just prior to the crash. His wife, who was seated next to him, was naked. Neither were wearing seat belts and both were seriously injured. The driver's wife would later say she was hot in the cabin, so she took off her clothing.
Earlier that same day, a Florida Highway Patrol trooper had stopped the driver after receiving a report that that the truck had wheel that was loose and smoking and also allegations that the driver had blown through two red lights. However, after an inspection, the trucker was allowed on his way. Soon after, the crash was reported.
One child suffered a crushed leg. Her dream of becoming a college cheerleader is over. Another child suffered a fractured skull. His dream of becoming a U.S. Marine will now never come to fruition.
This was a driver who had a history of problems. In addition to a criminal record, He'd had five driving violations since 2007, including two for driving with a suspended license, two for speeding, one for operation of a vehicle in unsafe condition and one for a tag violation. His license had been twice suspended for failure to maintain insurance and failure to pay a traffic fine.
During a five-hour sentencing hearing, News4Jax reported on how the victims spoke to the judge about the severity and long-lasting injuries they suffered, trauma that was not just physical but emotional.
"We almost lost our children that day," cried one mother.
The driver described how she scrambled to aid the most seriously injured students, wrapping a towel around the head of a young boy with the skull fracture.
Said the driver, "I'm forever traumatized by the screams and sights that I witnessed that day. I will forever be damaged, and I don't know if I'll ever feel whole again."
It is not specified in recent news reports, but it is probable the parents and students involved in this school bus accident would have grounds to pursue a truck accident lawsuit against the driver's employer and truck owner.
Call Associates and Bruce L. Scheiner, Attorneys for the Injured, at 1-800-646-1210.
Additional Resources:
Trucker sentenced to 20 years in Bradford County school bus crash, Aug. 17, 2016, By Nichole Snyder, News4 Jax
More Blog Entries:
Trucking Accident Lawsuit Targets Effectiveness of Underride Guards, May 14, 2016, Fort Myers School Bus Accident Lawyer Blog