An Illinois city recently agreed to a $4.75 million settlement to a woman in a sport utility vehicle who was struck by an on-duty city worker driving a garbage truck. It was reported the garbage truck driver was traveling eastbound, crossed over the double yellow lines on the road and side-swiped victim's vehicle, which was traveling westbound. She spun and was struck by another vehicle.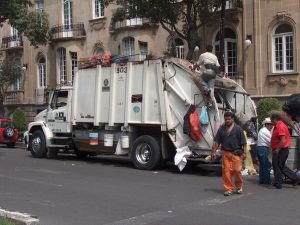 The 33-year-old victim explained to The Chicago Tribune that her left leg was broken and she remains unable to move her left hand. Her attorneys explained in her personal injury lawsuit that she had suffered serious and permanent injuries that will not only cost her dearly for medical expenses, but also have rendered her unable to carry out certain functions of daily living, such as returning to her job as a home care worker and cashier.
Accidents involving garbage trucks are sometimes described in media reports as being "freak" occurrences. The reality is, they are more common than one might think. One study reported by the New York Daily News revealed that over a three-year stretch, garbage trucks killed an average of 24 pedestrians per 100 million miles driven. Compare that to taxis, which were involved in 6 fatal accidents per 100 million miles driven. Researchers cited potential design flaws in trucks that may make it difficult for garbage truck drivers to see. 
More recent data form the U.S. Centers for Disease Control and Prevention (CDC) indicates solid waste industry is among the most hazardous. Although this refers to the sanitation workers (who are most commonly struck by another vehicle), anecdotal evidence alone shows us the pervasiveness of the problem and the risk to other drivers, pedestrians, bicyclists and motorcyclists. Some recent incidents in Florida include:
In February 2016, a man driving a garbage truck plunged off an I-95 overpass to the road some 100 feet below in Miami. The overpass and several vehicles were severely damaged but amazingly, no one was seriously injured.
A fatal garbage truck accident in Fort Myers in March 2016 when a city garbage truck collided with a van on S.R. 82, killing the van occupant, according to The News-Press.
In August 2016, a 44-year-old bar employee was killed outside his workplace when a garbage truck driver backing up reportedly did not see him.
In June 2017, traffic on Colonial Boulevard and the Midpoint Memorial Bridge in Fort Myers was halted for several hours when a garbage truck hit a pole, slammed into a tree and burst into flames, spilling fuel all over the road. The driver had minor injuries.
In December 2017, a 73-year-old Orlando man was struck and killed by an FCC Environmental Services garbage truck while walking his dog. The company was the same one involved in another fatal crash just a few weeks earlier that resulted in the injury of a utilities worker.
This is by no means an exhaustive list, but it underscores the potential dangers motorists and pedestrians face when encountering garbage trucks. TrucksandParts.com reports nearly 2 people are killed weekly in accidents involving waste collection vehicles and other drivers, bicyclists and pedestrians. Given the severity of injuries that often result in Florida garbage truck accidents, settlements and verdicts tend to be more substantial than the average car accident injury claim.
Call Associates and Bruce L. Scheiner, Attorneys for the Injured, at 1-800-646-1210.
Additional Resources:
Evanston approves $4.75M settlement for driver struck by city garbage truck, Dec. 18, 2017, By Genevieve Bookwalkter, The Chicago Tribune
More Blog Entries:
Road Debris Motorcycle Injury Case Weighed by State High Court, Dec. 28, 2017, Fort Myers Garbage Truck Accident Lawyer Blog