Airbnb is an online service that allows those with residences to rent them on a short-term basis. Often those who use the service are traveling, and it offers an authentic local experience that is often a cheaper alternative to pricey hotels.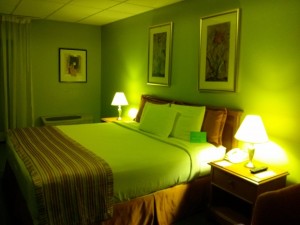 But there is a lot that can go wrong. Horror stories abound, including one recently chronicled in The New York Times.
A 19-year-old from Massachusetts traveled to Madrid in mid-July. He had arranged to stay at a private residence through Airbnb. When he arrived, however, his host locked the door, removed the key and began rattling knives in the kitchen as he pressed the teen to submit to sexual contact, according to the traveler's account.
The teen, trying to play it cool, began texting his mother for help. She frantically tried calling Airbnb, who directed her to the local police department. Representatives would not give her the address where her son was reportedly staying, but instead prompted her to call police and have the police request it. But she kept getting disconnected from the police department's main line. When she tried calling back Airbnb, the calls went straight to voicemail.
The teen would later reveal he was raped and only managed to escape by making an excuse about some friends knowing where he was and needing to meet up with them.
Now, police are investigating and the host in question denies the sexual encounter was non-consensual. Meanwhile, Airbnb has said it plans to review its policies. There was apparently some confusion about whether the alleged crime had already occurred. However, a company representative said despite the miscommunication, there is much the company can learn about this incident and vowed to do better.
Of course, doing better in the future isn't going to help this young man, who is now back home and coping with his ordeal through therapy.
Typically in negligence cases, civil courts are reticent to hold anyone but the attacker liable for damages caused by criminal acts. However, there are exceptions. For example, you may in some cases be able to sue a property owner or landlord on grounds of premises liability if there was some indication an attack might occur and property owner failed in his or her duty to victim to mitigate that risk.
In the case of Airbnb, the questions are a bit more complex. They don't "own" the properties, although they do profit from renting them. They refer to themselves as part of a "sharing economy," similar to the way Uber claims to be a "ride-sharing" service.
But legally speaking, it could be more complicated.
Last year, Airbnb announced it was adding an additional liability insurance program offering up to $1 million in liability insurance to protect a host in case the guest suffers personal injury anywhere in the host's building or on the host's property during the stay. The insurance extends to both hosts and landlords. This move was an expansion of a $1 million home guarantee insurance policy Airbnb offered in case of damage to host's property by the guest.
Hosts don't have to take additional steps to be covered under this policy, as it's been automatically available to all users within the company's U.S. listings since Jan. 15, 2015. The company is also working to expand the policy internationally.
However, the policy specifically exempts location defects, such as mold issues, bed bugs, pollution, asbestos or drywall problems. It also exempts "intentional acts by the host or other insured party."
That would likely include injury to this individual. In fact, most insurance policies don't cover damages for intentional, criminal acts.
This puts the victim in a difficult position. It may be possible to assert Airbnb was negligent in failing to properly screen the host. The individual in this case might also assert negligence in failure to appropriately respond to an emergency situation. The fact that the company is now reviewing internal policy may support that assertion.
Florida has long been a destination spot, and services like Airbnb help to further expand that reputation. But when a company fails to take necessary measures to protect both guests and hosts, it may be liable. For those who are injured while staying at a short-term rental, compensation via litigation may be an option.
Call Associates and Bruce L. Scheiner, Attorneys for the Injured, at 1-800-646-1210.
Additional Resources:
Airbnb Horror Story Points to need for Precautions, Aug. 14, 2015, By Ron Lieber, The New York Times
More Blog Entries:
FSU Study: Phone Alerts as Distracting as Text Messaging, Aug. 3, 2015, Fort Myers Injury Attorney Blog