The school year gets underway in Southwest Florida on Aug. 12, and motorists should expect to begin seeing an increasing number of young people walking or cycling to school, particularly during the early morning hours and the start of the afternoon commute.
Florida is already the most dangerous state in the nation for both bicyclists and pedestrians. The beginning of the school year, and the arrival of early darkness, often lead to an increased risk of child injury.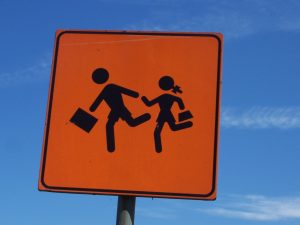 Our Fort Myers child injury lawyers urge you to use caution, particularly near school zones or while traveling through residential neighborhoods. Providing children the right-of-way is always the best bet when it comes to reducing your chances of being found responsible for causing a tragic accident.
The Lee County School District offers parents and kids a number of back-to-school safety tips,including:
Allow plenty of time to arrive safely.
Wear bright clothing.
Walk facing traffic.
Don't sit, stand, or play near the street.
Follow instructions of crossing guards, bus drivers and other safety officials.
Be alert for traffic.
The school district also recommends knowing your child's bus route number and bus stop location, as well as knowing what your child was wearing when leaving for school.
School Board Policy 7.02 (1) (a) states:
"The responsibility of the School Board of Lee County shall begin when students enter the school bus and end when the students depart the school bus. Parents/guardians are responsible for getting students to and from designated bus stops safely, and for their conduct and safety while waiting for the bus."
However, determine liability in the wake of a school bus injury is a complex process best left to an experienced child injury lawyer in Fort Myers or Cape Coral.
Child Bicycle and Pedestrian Safety
Adventist Health offers a number of additional back-to-school safety tips specifically for bicyclists and walkers:
Wear a bicycle helmet. Under Florida law, F.S. 316.2065, riders under age 16 must wear a helmet with a fitted strap that meets federal safety regulations under 16 C.F.R. part 1203. However, failure to wear a helmet should not be considered for contributory negligence purposes, meaning a child should not be found at fault when it comes to making a personal injury or wrongful death claim.
Avoid headphones. Headphones can be distracting and may prevent walkers or cyclists from hearing traffic or warnings.
Cyclists should use proper hand signals and follow the rules of the road. Bicyclists should also be encouraged to use the sidewalk whenever possible.
Whenever possible, plan your child's route to school or the bus stop where sidewalks are present. Pedestrians should walk facing traffic and should always use crosswalks or other designated crossing points.
Provide your child with reflective gear if walking at dusk or in the dark.
Set a good example and rehearse your child's route to school, paying particular attention to high-traffic areas or other dangers.
Serious or fatal injuries involving children are always tragic. As a parent, we all work hard to keep our children safe. By paying particular attention to their route to and from school, you can significantly reduce the risks during the most dangerous part of their day. As motorists, we must all do our part to provide every child with a safe route to school.
If you or a loved one is injured, call Associates and Bruce L. Scheiner, Attorneys for the Injured, at 1-800-646-1210.