The National Highway Traffic Safety Administration has launched a campaign to address the broad risks that come as kids head back to class.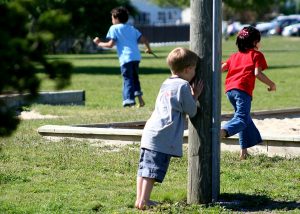 While the coronavirus pandemic has made this school year unlike any other in history – and largely turned the safety conversation to topics like social distancing and face masks – safety advocates are reminding parents of the broader spectrum of autumn risks that greet students and motorists alike.
Our injury lawyers in Cape Coral and Fort Myers have already posted about the school bus, bus stop, and bicycle and pedestrian risks associated with the start of the school year. Child injury in hot cars also remains a risk, particularly here in South Florida. Parents who forget their kids and kids who may crawl into an unattended vehicle are at highest risk.
Child Injury Risks in Southwest Florida
A number of less publicized risks include car-seat injuries, sporting injuries, traffic accidents, lightning strikes, and injuries that occur while a child is at the home of a friend or classmate.
Car Seats: Information about Florida's child car seat and child restraint requirements can be found via the Florida Department of Highway Safety and Motor Vehicles. Florida law requires children age 5 and under to be secured properly in a crash-tested, federally approved child restraint device. Children ages 0 to 3 must be in child restraint devices of a separate carrier or a vehicle manufacturer's integrated child seat. Children age 4 and 5 must be in a separate carrier, integrated child seat or booster seat.
Additionally, Florida's primary seatbelt law requires all front seat passengers to wear a seatbelt, as well as all passengers under the age of 18.
Injuries at school: Sporting injuries are the most common injuries that occur on school property. However, assault, lightning strikes, and other injury risks can result in serious or fatal injury. An experienced Fort Myers injury attorney should always be contacted in the immediate aftermath of a serious accident on school property.
Premises liability: The home of a friend or classmate is another common site for child injuries. These can range from fall injuries, to dog bites, swimming pool accidents or even firearm or overdose incidents. Injuries that result from underage drinking are another common cause of claims against a parent's homeowner's insurance policy. Like school injuries, these claims are best handled by a law firm with extensive experience.
Even in cases where a child may be partly to blame for his or her injuries, Florida's comparative fault laws still allow for an injury claim in many instances.
The wide range of risks faced by today's teenagers make active parenting all the more critical. Teaching your child how to behave – and how to think safely and critically – can be the best defense against being involved in a tragedy. Providing active supervision of teenagers in your home can also help ensure you are not found legally responsible.
If you or a loved one is injured, call Associates and Bruce L. Scheiner, Attorneys for the Injured, at 1-800-646-1210.