Amid so much uncertainty, one thing is certain: This Back-to-School season will be unlike any other in history.
The Lee County School District has ordered teachers to report Aug. 18, with the first day of in-person, face-to-face instruction scheduled for Aug. 31. Schools in Charlotte and Collier counties also plan to open to students on Monday Aug. 31.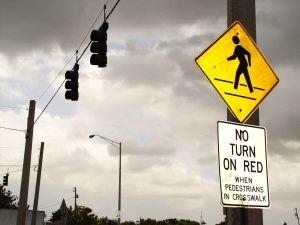 While concerns about COVID abound, our injury lawyers in Fort Myers and Cape Coral know the normal risks of child injury remain acute at this time of year, and in some ways COVID may make traditional risks, like bicycle and pedestrian accidents, even more of a concern.
Local school districts are offering virtual, in-person and hybrid learning models this year. In many cases, that will put kids on neighborhood sidewalks and arriving and departing school campuses, at all times of the day – not just during traditional early morning and late afternoon hours.
School Pedestrian Accidents
Most pedestrian accidents involving school children happen within several blocks of the school. Obey speed limits and pay special attention in school zones. Even outside the school zone, remember that students are converging on the area, often meeting up with friends, talking, and not paying attention.
Parents should walk the route to school with their child. Pay particular attention to crosswalks, sidewalks, pedestrian lights and street lights. Plan the safest route and make sure your child has an alternative plan.
Parents who drop their kids off at school are responsible for a large number of pedestrian accidents involving children each school year. Remain particularly vigilant at all times while in a drop-off or pickup line. Know who is around your vehicle and don't proceed until you have visual confirmation that it is safe to do so.
School Bicycle Accidents
Head injuries are the leading cause of serious and fatal injuries involving bicycles, among both children and adults. While children are often incredibly resilient and can take a fall that would seriously injure an adult, no one is immune from the consequences of striking their head on curbing or pavement. Always wear a helmet.
Make sure your child's bicycle is in good repair, including the tires.
Utilize proper safety equipment, including lights and reflectors.
Don't let your child wear dark colored clothing if biking in the early morning hours.
School Bus Accidents
A number of school bus accidents reminded us of the risks last year, including the tragic death of a Cape Coral girl who was run over and killed while waiting at a school bus stop.
Statistically, at least before COVID, school buses are the safest route to school.
COVID will likely make even more children opt to walk or ride a bike to school this year.
Getting on and off the bus is the most dangerous time for student injury involving a school bus.
The most dangerous part of the trip is walking to and from the bus stop or waiting to board the bus.
Make a plan with your child. Walk the route with them. Plan alternative options. Make sure they have a way to get in touch with you in case of emergency. Taking proactive steps will best help ensure your child remains safe as this unprecedented school year gets underway.
An experienced personal injury law firm will be in the best position to determine your rights in the wake of serious injury.
If you or a loved one is injured, call Associates and Bruce L. Scheiner, Attorneys for the Injured, at 1-800-646-1210.