With the holiday season here, many people in the area have Christmas trees in their homes and businesses. While these festive symbols of the season brighten the holidays, they can also be the source of tragic accidents. That's why it's important to take appropriate safety measures to help avoid a Christmas tree fire in Fort Myers.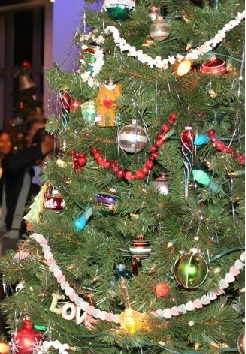 From 2005 to 2009, there were more than 200 home fires every year in the U.S. that were the result of a Christmas tree catching fire. These accidents kill more than 10 people and injure nearly 30 residents annually. If that's not bad enough, the holiday fires cost more than $16.5 million in property damage each year. These accidents aren't common, considering they really only happen in the months of December and January, according to the National Fire Protection Association (NFPA). When they do happen though, they're oftentimes serious.
Our Fort Myers injury lawyers understand that one out of every five tree fire accidents is started because someone put a heat source too close to the tree. These accidents are completely preventable. Following a few simple safety measures can help ensure Christmas trees do not catch fire.
Christmas Tree Safety Tips:
-If you're one of those who like to ring in the holidays with an artificial tree, get one that has been labeled as fire resistant or fire retardant.
-If you like to celebrate the holidays with the smell of fresh pine needles, you should pick a tree that doesn't throw its green needles on the ground when you touch it.
-After choosing the perfect spot for your tree, cut an inch or two from the base of its trunk before setting it in its stand.
-Place your tree three feet from walls, fireplaces, heat sources, candles, space heaters, lights or vents.
-You never want to set up your Christmas tree in front of an exit. If it goes up into flames, how are you going to get out?
-Give your tree lots to drink. Provide it with water daily.
-Make sure your tree lights have the approval label of an independent testing laboratory. There are some lights that are designed for indoor use and some for outdoor use, but never for both.
-You never want to connect more than three strands of lights together.
-Shut off the lights on your Christmas tree before you go to bed and before you leave the home.
-When Christmas is over and your tree starts throwing all of its needles on your floor, it's time to get rid of it. Trees that are dried out pose as serious threats for home fires. Don't keep old trees in your home or in your garage.
We wish everyone a safe, happy and fire-free holiday season.

Contact Associates and Bruce L. Scheiner, Attorneys for the Injured, if you or a loved one has been injured in Fort Myers, Cape Coral, Sebring, Naples or in any of the surrounding areas. For experienced advice about your rights, call 1-800-283-2900 for a free case evaluation.
More Blog Entries:
Local Officers in Search of Drunk, Drugged and Distracted Drivers to Prevent Fatal Car Accidents in Lee County through Holidays, Florida Injury Lawyer Blog, December 14, 2011
A Season to Give Thanks, Florida Injury Lawyer Blog, November 25, 2009