A 2-year-old boy was shot in the shoulder shortly after midnight in an apartment complex in the 3000 block of 2nd Street, according to WINK News. The young boy was sent to HealthPark Medical Center with a gunshot wound to the shoulder.
An investigation revealed that the toddler was shot inside a Fort Myers apartment. Detectives executed a search warrant for the residence where the shooting happened and found a semiautomatic handgun and a revolver. It is said that four adults and a second child were inside the apartment at the time of the shooting. Police believe that the shooting was accidental. Those involved in the shooting are still being interviewed as the investigation continues.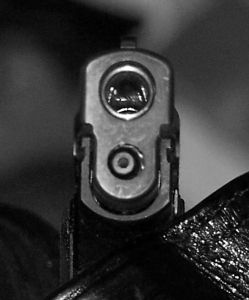 Our Fort Myers child injury lawyers understand that, while this is a tragic occurrence, these types of accidents happen all too often. Every few months, we hear the tragic case of a child being seriously injured or killed in an accident involving a firearm.
According to Common Sense: About Kids and Guns, adults are urged to keep guns locked away from children at all times. Store ammunition in a separate locked area away from the gun and store the keys in a place where children cannot find them. Parents are also urged to talk with their children about guns, making sure they know the dangers, the consequences and the power of a gun. Teach your children not only to leave all guns alone, but what to do if they run across one. Make sure they tell an adult.
The guns are not the problem. It is the lack of education. And sometimes the lack of respect for firearms. Or just plain carelessness. As a gun owner, or as a homeowner, a Fort Myers premise liability claim could hold you responsible for medical bills, pain and suffering and other costs associated with an accidental shooting. To say nothing of the emotional toll taken by the serious injury or death of a child.
According to ChildrenDefense.org, guns kill more than 3,000 children and teens a year. In 2006, more than 150 children were accidentally killed by guns. Florida experienced more than 10 accidental fatal shootings the same year. With federal statistics showing that nearly half of every household in America has a gun, it is important to be cautious and knowledgeable around firearms.
The National Riffle Association (NRA) offers these tips to parents who own guns to help keep their young ones safe:
-Always keep the gun pointed in a safe direction. NEVER point it at another person. Assume that the gun is always loaded and ready to fire at any moment.
-Be mindful that, when indoors, bullets can penetrate floors, windows, walls and ceilings.
-Always keep the gun unloaded until you're ready to use it. Learn how to safely check to see if the gun is loaded. If you don't know the proper technique, leave it alone.
-Keep your finger off the trigger until you're ready to shoot. When holding the gun, rest your finger on the outside of the trigger guard.

Associates and Bruce L. Scheiner, Attorneys for the Injured, is a law firm committed to representing injury victims throughout South Florida, including Naples, Fort Myers, Sebring and Cape Coral. Call for a free and confidential appointment at 1-800-283-2900.