Each month, countless tour buses travel through the area. To the beaches of Fort Myers and Sanibel. To the casino in Immokalee. And on to Key Largo and Miami. These tour buses have a responsibility to transport passengers in as safe a manner as possible. Passengers may feel a little safer after the Federal Motor Carrier Safety Administration (FMCSA) conducted a number of surprise inspections. But the reality is it will do little to help decrease the risk of bus accidents in Fort Myers and elsewhere in the U.S.
Interstate 4 was recently shut down for an hour after a Naples Tour bus caught fire this past weekend, according to the NBC 2. The bus, belonging to Naples Tours, dropped off a group of passengers in Orlando for the weekend and was returning to pick them up when a fire started on the rear-end of the bus, according to the Florida Highway Patrol. The driver reportedly attempted to put out the flames with a fire extinguisher, which failed, and was then forced to sit back and watch as the $80,000 bus went up in flames.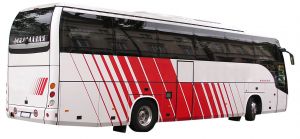 Our Naples personal injury lawyers urge Florida residents and tourists to be cautious when choosing tour bus transportation as the results of the recent federal inspections proved alarming.
As the U.S. Transportation Secretary Ray LaHood recently announced, the FMCSA, along with local and state enforcement agencies, conducted nearly 3,000 surprise passenger bus inspections in a 90-day period. The inspections removed nearly 300 unsafe buses and drivers from our roadways, according to a U.S. Department of Transportation press release.
That means roughly 1 in 10 buses on the road had problems so significant they could not continue to their destination.
"Working side-by-side with our state and local law enforcement partners, we can ensure that every passenger bus company and driver operates as safely as possible," said FMCSA Administrator Anne S. Ferro. "These strike force activities are one of the many effective tools we use year-round to raise the safety bar for commercial buses and drivers on our nation's roadways."
These inspections come after a string of bus accidents throughout the United States, including the recent bus accident in New York that killed 14 passengers.
The Obama Administration recently announced a new Motorcoach Safety Action Plan, which sought to ensure that companies make improvements to their vehicles. Proposed improvements include rules that would require bus companies to install seat belts and electronic on-board recorders on every bus.
Low-fare bus companies have recently been the focus of these investigations. Such companies were accused of running buses that failed to meet safety standards and forcing their driver to work under more grueling schedules. These conditions contributed to the increased risk of passengers being involved in a serious bus accident.
"Safety is our number one priority," said Secretary LaHood. "We will continue to use every resource at our disposal to shut down unsafe passenger bus companies that place motorists at risk and remove drivers from our roads who put passengers in harm's way."
While the government is trying to increase safety measures on tour buses, residents are urged to be cautious when choosing a busing company to travel with. Make sure to check their safety records and don't let the cheapest fair be the deciding factor.

Associates and Bruce L. Scheiner, Attorneys for the Injured, is a law firm committed to representing bus accident injury victims throughout South Florida, including Naples, Fort Myers, Sebring and Cape Coral. Call for a free and confidential appointment at 1-800-283-2900.