Traffic control devices are found along our roadways for a reason. They are here to help direct traffic and they are here to help keep motorists safe. The stop sign that wasn't seen could have saved a 19-year-old driver in a recent Fort Myers car accident, according to The News-Press.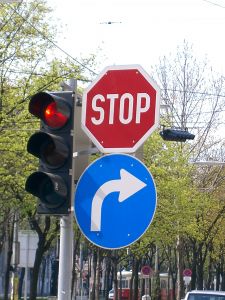 As the 19-year-old driver left her friend's house, just before 4:00 a.m., she headed down Riverside Center Court and attempted to turn onto Daniels Parkway. As she made the right-hand turn, she missed a stop sign and drove into the path of an oncoming semi-truck that was heading east on Daniels. The collision caused her 2007 Mustang to spin out of control. According to the Florida Highway Patrol (FHP), the young driver died at the scene of the early-morning accident.
Our Fort Myers injury lawyers understand that the driver of the semi-truck was not injured in the accident, which is almost expected considering the size and strength of these large trucks in comparison to smaller passenger vehicles. The two other passengers in the teen's vehicle were transported to Lee Memorial Hospital and were immediately listed in critical and serious condition.
Our hearts go out to these families. With graduation and summer break right around the corner, now is a great time to talk to your teens about staying safe behind the wheel.
As we head into prom season and the end of the school year, we can expect a great number of teenage drivers on our roadways. During this time it is critical to remind these young drivers about the risks. Teen drivers are urged to be cautious when driving in any scenario, but especially near intersections and large trucks.
A passenger of the vehicle, the driver's boyfriend, says that the driver didn't see the stop sign because it was blocked by a garage sale sign. The next day, the garage sale sign was removed.
"She didn't see the stop sign and she kept going," said Martir. "And before I knew it, I woke up in the CT scan room and found out my girlfriend's dead."
Officials are investigating the accident to see if any contributing factors, like alcohol, were involved in the accident as well. But initial reports indicate this is an example of how roadside obstructions can lead to serious or fatal accidents. Taking pictures as soon as possible after an accident can help you document conditions and protect your rights.
Transportation officials are here to make safer roadways for all. It's up to them to decide which areas need stop signs, traffic lights and other traffic control devices. Unfortunately, shrubbery, trees and other things can get in the way of these devices. For this reason, it's important to approach all intersections and roadways with extreme caution.
Be sure to always look in all directions for oncoming traffic before pulling into traffic (and look twice for motorcyclists, bicyclists and pedestrians. Slow down when approaching perpendicular roads, ramps or merging lanes. When roadway devices fail, driver awareness and attention should step in to help to prevent any accidents.
In 2009, there were more than 33,800 roadway fatalities across the country. Of these accidents, more than 7,000 occurred at intersections or were intersection-related. Drivers are urged to be cautious when traveling along our dangerous Florida roadways, but especially when traveling through intersections.

Associates and Bruce L. Scheiner, Attorneys for the Injured, is a law firm that is dedicated to helping the victims of car accidents in Fort Myers, Naples, Bonita Springs, Cape Coral and elsewhere through Southwest Florida. Call us today to schedule a free and confidential consultation to discuss your rights. Call us at 1-800-283-2900.
More Blog Entries:
Red-Light Cameras & Car Accidents in Fort Myers and Naples a Hot Topic of Debate , Florida Injury Lawyer Blog, March 16, 2012