Buckle your seat belts! Our Fort Myers car accident lawyers aren't only reminding you of this to help to keep you safe in the event of a traffic collision — law enforcement officers are on the hunt for motorists who aren't wearing their seat belts this summer as part of the "Click It or Ticket" safety campaign.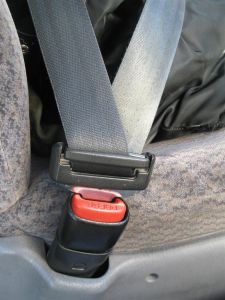 According to the National Highway Traffic Safety Administration (NHTSA), national seat belt usage is at an all-time high. But it's not all good news, unfortunately, seat belt usage continues to be lower at night — which is when fatal traffic accidents are more likely to occur.
"Law enforcement officers across the country will be out day and night handing out tickets to unbuckled motorists," said NHTSA Administrator David Strickland.
In 2011, more than 60 percent of motorists who were killed in an accident that happened during the evening hours were not wearing a seat belt. During the same year, only about 45 percent of those who were killed in a traffic accident during the daytime hours were not restrained.
With the summer travel season upon us, it's more important than ever to buckle your seat belt, not only to avoid a costly citation from officers but to also help increase your risks of surviving an accident.
According to Florida state law, anyone who is riding in the front seat of a car built after 1968 must wear a seat belt. If you're under the age of 18, you must be protected by either a seat belt or an appropriate restraint device no matter where you're sitting. If a passenger who is under the age of 18 violates this law, the driver will be held responsible. After that age, each passenger is held accountable. If you're busted by an officer for violating these laws, you will be fined at least $30.00 for the offense, plus court costs.
It has been proven that enforcement efforts work. There was nearly a 4.5 percent increase in seat belt usage after Florida enacted a primary seat belt law in 2009. The increase was experienced in just the first month. With the help of law enforcement officers, there was a near 7.5 percent increase with the 2009 "Click It or Ticket" campaign.
Following the enactment and enforcement of this law, reports indicate that close to 95 percent of the driving public understood that they could be stopped and cited for not wearing a seat belt, according to the NHTSA's "Impact of Implementing a Primary Enforcement Seat Belt Law" report. About 75 percent of individuals in this study also agreed that officers should be able to stop a vehicle and ticket a motorist who is not belted.
Whether you're heading to the grocery store or heading across country, we're asking that you make sure everyone in your vehicle (including yourself) is buckled in properly — to help save lives and to avoid a citation from officers.

Call Associates and Bruce L. Scheiner, Attorneys for the Injured, if you or someone you love has been injured in a car accident. Call today for a free and confidential consultation to discuss your case. 1-800-283-2900.
More Blog Entries:
Fewer Southwest Florida DUI Accidents Could Result From Lower BAC Law, Florida Injury Lawyer Blog, May 29, 2013
Southwest Florida Traffic Safety Watch: FHP Targets Aggressive Drivers, Florida Injury Lawyer Blog, May 20, 2013