Join us for Cape Coral Bike Night, Saturday Feb. 12, 2011!
The Cape Coral motorcycle accident lawyers at Associates and Bruce L. Scheiner, Attorneys for the Injured, are proud to be the title sponsor of the premiere family-friendly motorcycle event in Southwest Florida. For decades our firm has helped hundreds of motorcycle riders and their families. And we are proud advocates of motorcycle safety and awareness as we all work to ensure the safety of our motorcycling friends.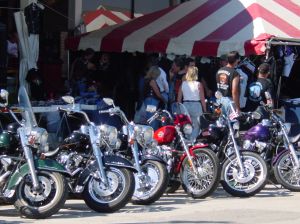 Tragically, riders are seriously injured or killed year around in South Florida. Just last month we reported on our Florida Injury Lawyer Blog when a rider was killed in the first fatal Cape Coral motorcycle accident of 2011.
Each year, the National Highway Traffic Safety Administration reports more than 5,000 riders are killed and 96,000 riders are seriously injured. Florida motorcycle accidents claimed 523 lives that year — more than any state in the nation except California.
Cape Bike Nights have grown into the biggest and best family-friendly motorcycle event in South Florida and each year Associates and Bruce L Scheiner, Attorneys for the Injured, continues to provide title sponsorship as the firm promotes motorcycle awareness through the winter riding season.
"We are pleased to once again partner with the City of Cape Coral and to join all of our friends in the riding community in supporting these family-friendly events while promoting motorcycle safety and awareness," said Bruce L. Scheiner, the firm's founder and senior attorney.
More than 10,000 people are expected at next Saturday's event. The event runs from 5 p.m. to 10 p.m. on SE 47th Terrace near Coronado. The event is a favorite for many food and clothing vendors and live music is provided. Cape Coral Bike Nights also frequently raise money for various local charities, including March of Dimes.

Associates and Bruce L. Scheiner, Attorneys for the Injured, is a law firm dedicated to representing accident victims in personal injury and wrongful death claims throughout South Florida, including Fort Myers, Cape Coral, Naples, Port Charlotte and Sebring. Call for a free and confidential consultation to discuss your rights. 1-800-283-2900.