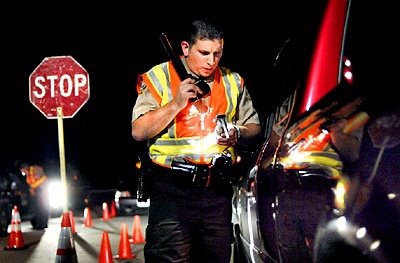 The city of Cape Coral, Southwest Florida's largest with a population of around 160,000, has experienced a rash of tragic accident fatalities in 2009. With the explosive growth the city has experienced in recent years comes the potential for deadly car and motorcycle crashes, some of which are caused by drivers who are found to be drunk or otherwise impaired while behind the wheel despite the serious consequences for DUI drivers.
On Tuesday, September 15th, motorcyclist Donald Erwin, 59, was riding his bike eastbound on Pine Island Road, nearing the Chiquita Boulevard intersection, when a vehicle driven by 62-year-old Virginia Murphy pulled into the bike's path, according to police reports. Erwin attempted to stop, sliding into the front of Murphy's car, and he was ejected. He was not wearing a helmet. Erwin was transported to Lee Memorial Hospital by helicopter, but died from his injuries. Cape Coral Police spokesperson Connie Barron says a criminal investigation is being conducted to determine if alcohol or drugs were a factor in the crash.
Just two days earlier, a car driven by 17-year-old Joshua A. Metcalf crashed into a pine tree after first drifting off Santa Barbara Boulevard and into the median. Metcalf over corrected and the car veered across the road at a high rate of speed and into a vacant lot on the right side of the road, where it struck the tree. Metcalf and his passenger, 16-year-old Zamantha Gordillo, were both pinned inside the vehicle, and had to be extricated by the Cape Coral Fire & Rescue workers on the scene. Metcalf was wearing his seatbelt, but his female passenger was not. Metcalf was flown to Lee Memorial Hospital's Trauma Unit, and Gordillo was transported there by ambulance, and they were both reported to be in critical condition.
DUI Traffic Deaths A Major Problem
The Cape has watched its population grow in leaps and bounds, especially during the boom years from 2002 to 2005. Unfortunately, with growth comes traffic, and the possibility that someone driving on the city's roads is impaired, and may cause a serious accident. The second half of 2009 has seen an alarming number of DUI crashes, and arrests resulting from those accidents.
Brenda Gellinger, the Director of the Lee County Chapter of MADD, (Mothers Against Drunk Driving), notes that the Cape Police Department has one of the highest number of DUI arrests for a city of its size in Florida. "MADD fully supports the efforts of the Cape Coral law enforcement community – their efforts are key to getting drunk drivers off the road, and preventing these horrendous accidents." Although there are some Cape residents who feel the police are overly aggressive in their practices and procedures regarding drunk driving arrests, Gellinger points out that, "The DUI checkpoints and wolfpack operations conducted by the Cape Coral Police Department are important tools to educate people about how wrong it is to get behind the wheel after you've been drinking."
Sadly, the numbers seem to prove she's right. Cape Coral Police arrested Louis J. Trasatti IV on September 2, and charged him with DUI Manslaughter in the death of Martin D. Gasber, who was riding his bicycle on Pine Island Road when struck from behind by Trasatti on June 18th. Trasatti became the third person in just one week to be charged in a DUI accident. He also has been charged with DUI Property Damage and DUI Alcohol or Drugs.
On August 28th, Cape Police charged Patrina Gordon with DUI Alcohol or Drugs and DUI with Serious Bodily Injury involving a traffic crash that occurred on February 4th at the intersection of Pine Island Road and Santa Barbara Boulevard. Gordon was driving southbound on Santa Barbara and was struck by another vehicle traveling northbound after Gordon turned her truck into the northbound vehicle's right of way. Two passengers in Gordon's vehicle were injured, suffering a broken back and fractured pelvis. The presence of marijuana and the drug Xanax were found in Gordon's blood sample.
On August 31st, Cape Police charged Sean Michael Frazee with allowing an unauthorized person to operate a motor vehicle involving a traffic crash. Frazee was the owner of a motorcycle that he permitted Nicholas Thomas Trunck to drive in the alleyway behind a local pool hall on January 31st. Trunck did not have a motorcycle endorsement, and was impaired by marijuana. Trunck lost control, struck a utility pole in the alleyway and was pronounced dead later that night at Lee Memorial Hospital. Frazee was issued a criminal citation.
"Florida personal injury lawyers are greatly concerned about the number of alcohol and drug related accidents occurring in Cape Coral", says Attorney P.J. Scheiner of Associates and Bruce L. Scheiner Personal Injury Lawyers, P.A. "DUI crashes are always an unnecessary occurrence, and when they cause death or serious injury, obviously the consequences are much more severe." Scheiner says. "People need to learn the dangers of drinking and driving, and take responsibility for their actions. Keep in mind – We sue drunk drivers."
Associates and Bruce L. Scheiner Personal Injury Lawyers has been focused on justice since 1971, fighting for the rights of those injured or killed by drunk drivers. With 7 area offices, including Cape Coral, the firm is dedicated to serving the needs of accident victims. Log on to www.focusedonjustice.com or call 1-800-DIAL-BLS.