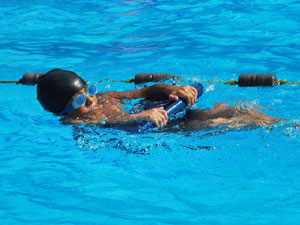 A federal law designed to keep swimmers safe may be causing confusion among the thousands of owners and operators of public swimming pools at hotels, condominiums and community associations in Southwest Florida.
On December 19, 2007, President Bush signed into law the Virginia Graeme Baker Pool and Spa Safety Act, named after the daughter of Nancy Baker and the granddaughter of former Secretary of State James Baker. Graeme Baker died in a tragic incident in June 2002 after the suction from a spa drain entrapped her under the water. This Act was first introduced by Rep. Debbie Wasserman-Schultz, (D-FL), and was supported by the Baker family and Safe Kids Worldwide.
The Act specifies that on or after December 19, 2008, swimming pool and spa drain covers available for purchase in the United States must meet specific performance requirements. Additionally, public swimming pools, wading pools, spas and hot tubs must meet requirements for installation of compliant drain covers.
There is an annual average of 283 drowning deaths and 2,700 emergency room-treated submersion injuries involving children younger than 5 in pools and spas. In addition, from 1997-2007, there were 74 reported incidents associated with suction entrapment, including 9 deaths and 63 injuries. The law is aimed at reducing these deaths and injuries by making pools safer, securing the environment around them, and educating consumers and industry on pool safety.
However, there seems to be a lot of misunderstanding and misinterpretation regarding the new drain cover requirements, and how they need to be installed. Some residential condominium complexes and commercial hospitality establishments are using their own maintenance crews, or unlicensed contractors, to install the grates. The law requires the work be done by certified pool service, residential or commercial contractors, who then must submit paperwork to the state. Adding more concern and confusion, pool contractors warn that some grates which do comply with the Act requiring domed covers to prevent body entrapment don't always meet Florida standards, because they allow water to flow through too quickly.
Locally, Artesian Pools has built 17 commercial pools for residential homeowner associations and condominium communities, including the pools, spas and water features at Tarpon Point in Cape Coral. Service Manager Jeff Inman says they have also done many jobs retrofitting older pools with the newly designed drain covers. "We did the Marco Island Marriott Resort and several others, and I know that there was a lot of confusion as to exactly what the pool owners had to do to comply with the new law," he says. He goes on to note that "In Collier County, there was a problem with the height of the new covers, and they felt it would cause a tripping or foot injury hazard, but that has all been worked out."
In Lee County, the Health Department is charged with conducting inspections to ensure all pools other than those at single-family homes are in compliance with Florida codes, but enforcement of the new Virginia Graeme Baker Act is the responsibility of the Consumer Products Safety Commission (CPSC) and the State Attorney's General. Jim Love, Lee County Health Department Environmental Administrator, notes, "The CPSC does not have the manpower to keep on top of the inspection or compliance process, so, not surprisingly, the insurance carriers of a lot of hotels, resorts and condominium developments are taking it upon themselves to make sure their policy holders are up to date with the new drain cover installations."
Attorney P.J. Scheiner of Associates and Bruce L. Scheiner Personal Injury Lawyers sees this as a potentially hazardous situation for people swimming in pools which have yet to be converted with the new drain covers. "The laws are very clear when it comes to premise liability," Scheiner says. "It is the responsibility of the owners of these types of pools to see that they have complied with the new federal law, in order to reduce or eliminate the risk of injuries or even death. If you are staying at a hotel or resort or live at a residential development with a community pool, make sure you ask if their pool drain covers are in compliance with all state and federal mandates."
Associates and Bruce L. Scheiner Personal Injury Lawyers have been focused on justice for people injured or killed as a result of a negligent property owner or landlord for almost four decades. We can provide the legal expertise and aggressive representation you need to help you attain the compensation you deserve.