Fans of rapper Travis Scott know that when they go to one of his concerts, it's going to be high-energy. Not only will the bass be loud and the crowd riled, fans routinely form mosh pits, crowd surf and stage dive. But now, one of those fans has suffered serious injury after attending one of these events, and the question is to what extent was this an assumed risk and to what extent could the venue and Scott himself be liable.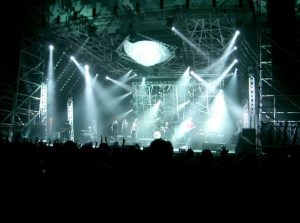 The New York Times reports 23-year-old man became paralyzed and must now forever use a wheelchair after he was allegedly pushed form a third-story balcony and dragged on stage during one of the rapper's performances this spring in Manhattan, New York. Plaintiff accuses Scott of negligence, as well as his manager, the concert promoter and the security company hired to provide protective services that night.
Representatives for Scott said they were conducting an internal investigation of the incident. A representative for the concert promoter declined to comment on the pending injury lawsuit. 
What may be especially helpful to plaintiff's case is the fact that video clips from the concert in question show the rapper loudly encouraging fans to jump from the second-floor balcony. He tells them not to be scared, and shouts to one person dangling off the balcony that the people below would catch him.
Plaintiff says he did not willingly jump off the balcony, but rather was pushed. Once he fell on the ground, Scott started to yell at the security on the ground to pick the man up and bring him on stage. While this was probably well-intentioned, the problem was the security did not stop to see if the patron had a broken neck (which he did). They did not first get a backboard or neck brace before picking him up and laying him on stage. Scott then gave the man a ring off his finger to wear.
In addition to fractured vertebrae, he also suffered a broken ankle and a broken wrist. He is suing the defendants for extreme pain and suffering, lost wages, medical expenses and emotional distress.
Another factor that may bolster plaintiff's claim is the fact that Scott had previously been cited for inducing chaos and even riots at some of his previous shows. He was arrested in Arkansas a month after this incident for inciting a riot. He has pleaded not guilty and that case is pending. Two years ago, the artist pleaded guilty to allegations of reckless conduct after encouraging fans in Chicago to climb over security barricades and join him on stage. One could make a strong argument of negligence based on this because security barriers at concert and other entertainment venues are there for a reason.
Venues, artists and organizers can be liable for injuries to spectators for a number of reasons, particularly when shows are like this. There is a known danger when you have large, excited crowds. That means owners and organizers have a responsibility to be prepared for it, to properly staff the event, to adequately train their staff and to take other precautions to prevent reasonably foreseeable hazards.
Call Associates and Bruce L. Scheiner, Attorneys for the Injured, at 1-800-646-1210.
Additional Resources:
Travis Scott Sued by Fan Who Says Concert Injury Paralyzed Him, Oct. 30, 2017, By Joe Coscarelli, The New York Times
More Blog Entries:
Premises Liability Case Involving Injury to Young Boy Will Proceed, Court Rules, Oct. 15, 2017, Fort Myers Concert Injury Lawyer Blog