Many performers go the extra mile to engage audiences in a show they will want to always remember. Unfortunately, these may result in injuries some fans can never forget.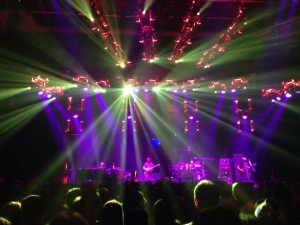 A recent personal injury lawsuit was filed against a popular electronic dance music DJ after a concert in San Diego. The DJ reportedly jumped into the crowd while riding an inflatable pool raft. The stunt was performed to massive cheers, but one fan says she got trapped underneath the raft. As a result, she suffered a broken neck and broken ankle.
In addition to the DJ, plaintiff is also suing the venue.
These cases are not as uncommon as you might think, particularly at high-energy shows and festivals. This very same DJ recently performed in Los Angeles, where eight people were injured and three hospitalized after a fellow concertgoer pulled down a camera boom stand in the middle of the show.
Last year in Ohio, firefighters and rescue crews were called to respond to a local concert venue at The Ohio State University, where the stage partially collapsed, injuring four. According to news reports, a forklift bumped the stage, causing a chain reaction that resulted in the stage collapsing.
In 2013, eight people were injured in Washington D.C. during the "International Yard Fest" as hundreds of spectators were upset they could not get into the outdoor concert and rushed the gates.
In 2008 during the Bamboozle Festival in New Jersey, at least 50 people were injured in an "out-of-control" mosh pit. At the time, media reported at least nine mosh-related deaths between 2004 and 2006. More may have gone unreported. The number of injuries is far greater, with some experts estimating some 10,000 people have been injured either in or around mosh pits at concerts and festivals in the last decade.
One of the more notorious incidents of concert death occurred in 1979 at a concert by British band the Who in Cincinnati. There, 11 people were killed and 26 injured in the sold-out arena when word spread (mistakenly) that the concert was beginning. People still waiting to get in began pushing their way inside, causing a massive – and deadly – crush of force.
Our Fort Myers personal injury attorneys recognize that venues, event organizers and promoters, and talent all must work collaboratively to create a safe environment for fans. These kinds of incidents are certainly accidental, but that does not mean they are inevitable. In fact, most of these scenarios are foreseeable and preventable.
Such incidents could fall under several theories of liability. For example, venue owners have a duty to ensure buildings and premises are up-to-code and reasonably safe for guests. Because people are paying to get in, property owners and managers legally owe the utmost duty of care to these patrons.
Further, event organizers need to ensure the venue is not filled to excess capacity. That means making sure the number of tickets doesn't exceed capacity.
There also needs to be adequate security. Depending on the type of function, that could include making sure patrons are screened for drugs, weapons or other contraband. It can also mean having enough security on hand to manage the crowd.
Florida is packed with summer festivals and concerts. The hope is people will leave with nothing but great memories. But if you are seriously injured as a result of an incident at one of these events – even a criminal attack by a third-party – the venue or event organizers may be liable to compensate you for your injuries.
Call Associates and Bruce L. Scheiner, Attorneys for the Injured, at 1-800-646-1210.
Additional Resources:
Steve Aoki sued over fan crowd-surfing injury, May 19, 2015, By August Brown, Los Angeles Times
More Blog Entries:
Florida Deemed Friendlier to Bicyclists, But More Work is Needed, May 23, 2015, Fort Myers Concert Injury Lawyer