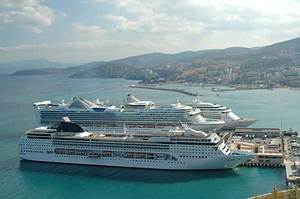 Since the beginning of 2009 twelve passengers or crewmen have gone overboard from cruise ships or ferries. Two of those instances happened during June in the Gulf of Mexico. This prompted investigatory reporter, Ben Montgomery of the St. Petersburg Times to study how individuals wind up in the Gulf or ocean.
Part of the answer is in the abuse of alcohol on board cruise ships. In 2008 13 million Americans (some inspired by the former TV show Love Boat) took cruises, and although the number of deaths while cruising is a relatively small percentage, excessive drinking on board causes accidents both to the individual drinking and other passengers or crew members.
Well-known travel writer and TV producer, Peter Greenberg finally convinced one of the cruise lines, NCL (Norwegian Cruise Line) to allow him, without restriction, to film a television show on-board NCL's Norwegian Pearl . This television special originally aired on CNBC March 24, 2009, and it has been so popular that it has re-run a number of times. We urge you to check your local television schedules to find out when you can see this very compelling show which is called Cruise Inc. It is part of CNBC's popular specials which have looked at the airline industry, fast food industry, WalMart and others in a series they call A Week in the Life Of…
In Mr. Greenberg's interviews on-board the Norwegian Pearl he found out that on-board revenue is a critical part of providing a cruise line its profit. The Norwegian Pearl has a capacity of 2200 passengers and each day, just to break even against costs, the cruise line needs to sell $112,000 worth of beverages. Although some beverages purchased are non-alcoholic, the others are. It is clear that some people on board don't know when to stop. They are taking advantage of the fact that they don't need "a designated driver" to get home.
The Norwegian Pearl has a good record of protecting its passengers and crew, but it too has had a "man overboard" problem in the past. They have installed a very comprehensive video safety surveillance system. Details of this are provided by Mr. Greenberg in his show.
Cruise industry experts, just as we do as personal injury lawyers, strongly urge you to encourage everyone on board a cruise to drink responsibly If you or someone you love has been injured on a cruise ship by, or the a result of, an irresponsible drinker (CWI – cruising while intoxicated), or by any other means, contact Associates and Bruce L. Scheiner, Personal Injury Lawyers at 1.800.Dial.BLS.