A large group of speeding, wheelie-popping daredevil motorcyclists and all-terrain vehicle operators have made headlines as they've roared across South Florida highways, recklessly weaving in and out of traffic and surprising unsuspecting motorists.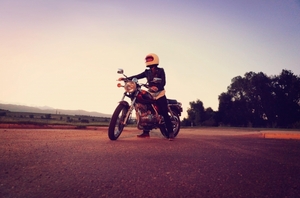 Most weren't riding helmets as they zoomed by at speeds in excess of 100 mph. Some were even operating on the wrong side of the road, performing stunts and blocking roads. Other drivers called authorities to complain members of the group weren't stopping for red lights.
Troopers with the Florida Highway Patrol arrested one man and cited two others recently as one large group raced northbound along I-95. Not long after, there was unsurprisingly a crash with injuries involving one of the riders from the group.
In recent weeks, reporters noted there has been a flurry of activity on sites like Twitter, where one South Florida rapper with 3 million followers has been promoting "Miami Bike Life" stunts and rides.
Law enforcement insists it is monitoring these groups, and the greatest concern has been the fact they sometimes put other motorists at risk.
While these kinds of incidents rightly stir debate and generate a fair amount of web traffic for news sites, they aren't indicative of the typical motorcycle rider. Further, the crashes involved aren't indicative of the typical motorcycle accident in Southwest Florida.
According to the National Highway Traffic Safety Administration, the overall number of motorcycle fatalities occurring in 2012 (the latest year for which statistics are available) increased 7 percent compared to the prior year. The number of motorcycle injuries climbed 15 percent in that same time frame.
Florida had more motorcyclists killed that year than in any other state – 456 – followed by Texas and California.
Of those involved in fatal crashes, four out of five did not have any prior speeding convictions and most did not have any prior recorded suspensions or revocations. Only 4 percent had prior DUI convictions and 12 percent had any recorded prior crashes.
What that tells us is the vast majority of motorcycle operators are responsible and law-abiding. Most of the time, crashes occur because drivers of other vehicles aren't keeping a proper lookout, and end up causing a collision. In fact, federal statistics show the top cause of motorcycle accidents is a motorist who fails to yield and turns into the path of an oncoming rider.
Motorcyclists inherently lack the same kind of protection as those in motor vehicles, and therefore sustain more frequent and more serious injuries.
It as recently reported troopers in Fort Myers are looking for a hit-and-run driver who struck and killed a 45-year-old husband and father of two on a motorcycle on I-75 earlier this month. Friends say he was always cautious on his motorcycle, had taken safety courses and always wore a helmet.
In another recent case, a 25-year-old motorcyclist was killed in South Fort Myers on U.S. 41 when a 53-year-old pickup driver reportedly crossed into the path of the motorcyclist and struck him while trying to turn left. The motorcyclist died at the scene.
Those injured in motorcycle accidents should contact an experienced motorcycle injury lawyer to protect their rights.

Call Associates and Bruce L. Scheiner, Attorneys for the Injured, at 1-800-646-1210.
Additional Resources:
Motorcycle, ATV riders cause havoc on South Fla. roads, Jan. 20, 2015, By Andrea Torres, Local 10 News
More Blog Entries:
Green v. Johnson – Multiple Insurance Agencies in Motorcycle Death Claim, Nov. 8, 2014, Fort Myers Motorcycle Accident Lawyer Blog