A South Florida bar has been ordered to pay $7 million to the families of a young couple killed in a bike accident on Labor Day 2013. The pair was riding a tandem bicycle when they were struck by a drunk driver who had reportedly just left the bar intoxicated.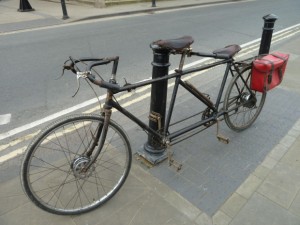 What's interesting about this case is that normally, victims of drunk drivers in Florida would not be able to collect damages from the establishment that served the driver alcohol except in very limited circumstances.
However, defendant bar was the employer of the drunk driver, who was reportedly drinking throughout his shift and left intoxicated after a friend failed to pick him up as promised. That may have made a difference in this case.
According to The St. Petersburg Tribune, the decedents, a 27-year-old woman and a 25-year-old man, were riding their tandem bicycle around 6:15 a.m. when a drunk driver struck them and then drove away. At the time, the then-30-year-old driver worked as a bar back at Shephard's Beach Resort on Clearwater Beach.
During his shift, the driver reportedly consumer numerous beers and shots of liquor. After his shift was over, he got behind the wheel of his car.
After the accident, he returned home and told his roommate he believed he may have struck something with his vehicle – possibly a person. However, he would later tell investigators he had completely blacked out and remembered nothing.
The 25-year-old victim died at the scene. However, the 27-year-old was in a coma for nearly three weeks before doctors concluded she was brain dead.
Driver was later arrested for DUI manslaughter, tried and convicted. He is serving an 11-year prison sentence.
But that wasn't the end of the legal battle. The families of the victims sued the bar for wrongful death in connection with the bike accident.
Florida's dram shop law, codified in F.S. 768.125, only extends liability to bars for third-party drunk driving injuries when alcohol was served to someone who was:
Under the age of 21;
Known to be habitually addicted to alcohol.
This was a waterfront hotel and resort known for its "party atmosphere."
As a bar back, the driver was reportedly drinking "excessive amounts of alcohol" during his shift, according to the original complaint, between the hours of 2 a.m. and 5:45 a.m. One could make an argument for vicarious liability in this situation because employers have more control over the actions of employees on-the-clock than they do patrons. Plus, allowing workers to drink on-the-job is in violation of accepted practice for hotels.
But beyond that, plaintiffs alleged driver was habitually addicted to alcohol. They backed this assertion by presenting evidence that the driver had on numerous occasions consumed alcohol in front of his co-workers. Additionally, other resort workers had actual or constructive knowledge that the driver was impaired when he left work that morning.
The hotel reportedly has a history of drivers leaving the bar impaired and causing serious car accidents, going back to at least 2002.
The case never made it to trial. It was settled out-of-court last year, awarding $3.5 million to each family. The details were supposed to remain confidential. However, the information recently became public when the resort filed an action with its insurance company to pay the settlement.
Call Associates and Bruce L. Scheiner, Attorneys for the Injured, at 1-800-646-1210.
Additional Resources:
$7 million awarded to families of couple killed on tandem bike, March 16, 2016, By Kristen Mitchell, The St. Petersburg Tribune
More Blog Entries:
Defective Hip Implant Verdict for $502 Million Against J&J, March 26, 2016, Fort Myers Bike Accident Lawyer Blog