A growing number of tourism officials have cozying up to the bicycle advocacy movement amid recognition of the economic potential of this subgroup of tourists, according to a recent report by Stateline.org, a publication of The Pew Charitable Trusts.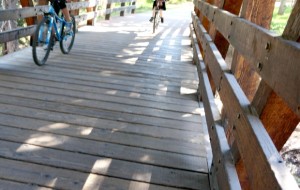 Biking is becoming increasingly popular as people embrace it not only as a form of healthy recreation, but as a green alternative to driving a motor vehicle. According to the League of American Bicyclists, the number of bicyclists doubled from 1.7 billion in 2001 to 4 billion in 2009 – and the numbers have continued to grow. Bicycle commuting rates are up more than 100 percent from 2000 to 2013. People who have fallen in love with this sport are also recognizing it as a way to see the country from a different perspective, and that's given birth to bicycle tourism.
Although bicyclists make up a small portion of out-of-state visitors, they are a much-desired one, according to the report. They tend to stay longer and spend more when they come.
Florida is an ideal spot for many cyclists across the East Coast and beyond due to its flat terrain, unparalleled scenery and mild winters. But there is one major hurdle: Safety.
According to the National Highway Traffic Safety Administration (NHTSA), there were nearly 750 cyclists killed and another 48,000 injured in motor vehicle crashes in 2013 (the latest year for which statistics are available). One of the worst places for bicyclist accidents? Florida.
That year, there were 133 people who died in the state in bicycle accidents, second only to California (with more than double our population) with 141 bicycle deaths. When population was factored in, Florida was No. 1 by far for bicycle fatalities. We had 6.08 bicyclists die per 1 million population. The second-highest was Arizona, with 4.68 per 1 million. The national average was 2.35.
Recognizing what's at stake here – and also how much economic capital there is to be gained – state officials across the country have been investing in bicycle safety.
In Florida, for example, officials last summer approved a $25 million annual investment into connecting individual, local bicycle paths to a newer, larger statewide network of bicycle paths.
In Colorado, Gov. John Hickenlooper underscored the positive force of biking and asserted that states that have the best biking are going to start leading the country in tourism and economic growth.
Studies have shown that cyclists who are touring tend to be older and wealthier. They tend to support smaller and locally-owned businesses (i.e., cafes, motels, craft breweries, shops, etc.), versus other tourists who usually flock to national chains.
Researchers in Montana, which welcomes 500,000 bicycle tourists a year, found that the average bicycle tourist spent $75 daily and spent eight nights or more, compared to other tourists who spent $58 daily and stayed for just six nights on average.
On the whole, states spend less than 2 percent of their state budget and 2 percent of their federal funds on biking and walking projects. With the recognition of how biking tourism can help bolster the economy, that may be changing.
Call Associates and Bruce L. Scheiner, Attorneys for the Injured, at 1-800-646-1210.
Additional Resources:
A boom in bicycle tourism, Dec. 7, 2015, By Marsha Mercer, Stateline.org
More Blog Entries:
Florida Bicycle Safety Bill May be Losing Its Teeth, March 10, 2016, Fort Myers Bicycle Accident Lawyer Blog