The U.S. Occupations Safety and Health Administration in investigating how a roofer fell from atop a Fort Myers truck dealership earlier this week.
The News-Press reports the accident  on Palm Avenue, where Fort Myers police, firefighters and Lee County EMS personnel responded, left the victim seriously injured. The 911 caller reported a man had fallen from the roof and was not moving.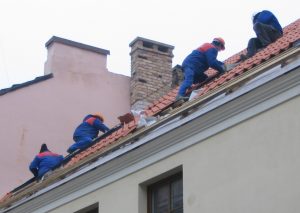 OSHA reports fall accidents are second only to transportation accidents among U.S. workers. Construction workers, and roofers in particular, are among those at greatest risk.
Roofing Accidents – Injuries and Liability in SWFL
OSHA provides roofing companies of all sizes with training aids on fall-protection, including the requirements of use of Personal Fall Arrest Systems (PFAS). Safety with ladders, scaffolding, platforms and guardrails, as well as falling object protection, are also covered.
Federal regulators continue to crack down on fall hazards among roofing companies. Business Insurance recently reported fall hazards resulted in a Florida roofer being hit with $1.5 million in OSHA fines. At least three other Florida roofers were also fined last fall. Naples Daily News reported recently about the ongoing shortage of labor and roofing material as roofers continue to repair the backlog of damage left by Hurricane Irma.
A fall injury lawyer in Fort Myers is best contacted in the immediate aftermath of such cases. In most cases, an employee should be eligible for workers' compensation benefits. F.S. Title XXXI 440.01 outlines Florida's Workers' Compensation Act, which pays no-fault damages to injured workers for things like medical bills, rehabilitation and lost wages. The system is designed to provide expedited benefits for injured workers, while shielding companies from the liability associated with a personal injury lawsuit.
However, as is the case with a personal injury lawsuit, it's incumbent upon the injured party to consult experienced legal help and take other steps to protect their rights to fair resolution. Workers' compensation insurers will do everything within their power to limit compensation. Additionally, the roofing and construction industries are notorious for classifying employees as independent contractors, thereby skirting the legal requirement to provide workers' compensation benefits at all. In such cases a personal injury or wrongful death lawsuit may be pursued because by not carrying workers' compensation insurance, the employer has lost the exclusive-remedy protections provided by workers' compensation.
In other cases, a third-party, such as a property owner or equipment manufacturer, may share blame for an accident. In these cases, a civil lawsuit may be pursued for additional damages, regardless of whether an employee was covered by workers' compensation insurance at the time of an accident.
If you or a loved one is injured, call Associates and Bruce L. Scheiner, Attorneys for the Injured, at 1-800-646-1210.
Additional Resources
Protecting Roofing Workers, Occupational Safety and Health Administration
More Blog Entries
Two Killed in Naples Construction Accident after Elevator Collapses, May 16, 2018