Emergency responders and law enforcement officers devote their time and effort to helping our community and our families, and now officials with the Florida Department of Highway Safety and Motor Vehicles (DHSMV) are asking you to do the same.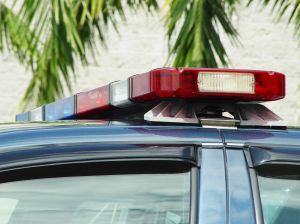 Since 1999, there have been more than 200 law enforcement officers in the U.S. who were killed and thousands more injured in traffic collisions when struck by a passing motorist while stopped on the side of the road, doing their job. Throughout January, officials with the Florida Highway Patrol (FHP) will be targeting enforcement efforts to make sure that drivers in the state of Florida are aware of and abide by the state's Move Over Law. This law was designed to help protect these individuals, emergency workers, law enforcement officers and tow truck drivers who are stopped along the side of the road doing their job.
Our car accident attorneys in Fort Myers know when approaching an emergency vehicle with its lights flashing, parked on the side of a multi-lane road, you are required by law to move over by changing lanes away from the emergency vehicle as soon as it is safe to do so. Motorists are required to leave the lane that is closest to that vehicle empty, to help prevent a collision involving the emergency vehicle or other workers who are performing their jobs in the area. Unfortunately, there are many drivers who do not follow this law — and put the lives of roadside workers in danger.

If you're not able to vacate the lane closest to the emergency response vehicle, then you are required to slow to a speed that is 20 miles per hour less than the posted speed limit when the posted speed limit is 25 miles per hour or greater; or travel at 5 miles per hour when the posted speed limit is 20 miles per hour or less, when driving on a two-lane road, except when otherwise directed by a law enforcement officer.
If you don't move over the penalty is about $120 (depending on the Florida County) and 3 points on your driver's license. Violating the move over law puts both yourself and a public safety professional at risk.
"Abide by the Move Over Law and help us protect our emergency personnel and their families," said the Director of the FHP, Col. David Brierton.
The Move Over Law is more than a decade old, and the education process continues.
"This law seems to be deficient in the minds of the public," said Capt. Warren Fast, who oversees FHP operations in Broward County.
During the enforcement campaign of 2012, FHP officials throughout the state handed out more than 1,200 citations. We join the Florida Highway Patrol in encouraging drivers to help troopers, deputies, police officers, firefighters and other emergency responders by changing lanes when approaching a scene.
Associates and Bruce L. Scheiner, Attorneys for the Injured, is a law firm dedicated to representing the injured in personal injury and wrongful death claims in South Florida. Call today for a free and confidential consultation to discuss your case. 1-800-283-2900.
More Blog Entries:
Staying Safe Through Florida's Busy Motorcycle Season, Florida Injury Lawyer Blog, January 4, 2014
Most SWFL Traffic Collisions are no "Accident", Florida Injury Lawyer Blog, December 31, 2013