A woman in Tarpon Springs has filed a personal injury lawsuit seeking at least $15,000 in damages for injuries suffered in an alleged slip-and-fall accident.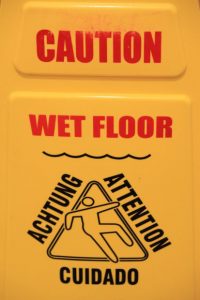 The incident occurred in a Wal-Mart store, which has been no stranger to such claims, given that it gets an estimated 138 million visitors every week. In fact, the company hires not just attorneys to handle cases as they arise, but also a claims management firm, with the sole aim of reducing the store's liability in slip-and-fall and other negligence cases.
Such claims are harder to win in Florida, especially in recent years since legislators tightened plaintiff's proof burden under F.S. 768.0755. In order to prevail in a Florida slip-and-fall lawsuit arising from a transitory foreign substance on the floor of a business establishment, plaintiffs need to prove the company had actual or constructive knowledge of the dangerous condition and yet failed to take action – whether warning you about it or cleaning it up. 
Actual knowledge means the store knew about that specific spill or hazard existing at that place and time. Constructive knowledge, meanwhile, is established by a presentation of circumstantial evidence. Specifically, you will need to show that either:
The hazardous condition was in existence for such a length of time that in the ordinary course of using reasonable care, the company knew or should have known about it;
The condition occurred with such regularity that it was foreseeable.
That means if you slip-and-fall in the store, you need to document the scene and report it immediately if at all possible because otherwise, your opportunity to identify what the substance is – and how it got there and how long it was there – may be lost. That could greatly impact your chances of filing a successful case. Contacting a lawyer as soon as possible after the incident will help you to gather and preserve the relevant evidence you need while it is still available. This could include surveillance video, witness statements and more.
In the recent case, as reported by The Florida Record, it is not clear exactly what plaintiff is alleged to have fallen on. She asserts the incident occurred in August 2013, and that she slipped and fell on a liquid substance that was at the front of the floor. As a result, she suffered great pain and suffering, disfigurement and scarring, as well as medical expenses and reduced earning capacity. She asserts that defendant reportedly had constructive knowledge of the condition and yet failed to warn plaintiff that it existed.
Warnings can come in the form of:
Yellow caution signs on the floor;
Verbal warnings from staff;
Signs on the wall or door near the site;
Fencing around a leak;
Yellow cones or tape near a spilled liquid.
In a grocery/ retail store setting like this, there are many potential conditions that could become a slip-and-fall hazard, from rainwater to a spilled drink.
Many of these claims are settled before they ever go to trial, but it's important that you speak to a Fort Myers slip-and-fall lawyer before accepting any settlement offer from the store. You may be entitled to far more than you are initially offered.
Call Associates and Bruce L. Scheiner, Attorneys for the Injured, at 1-800-646-1210.
Additional Resources:
Walmart shopper alleges she was injured in slip and fall, seeks $15,000 in damages, July 14, 2017, By Philip Gonzales, Florida Record
More Blog Entries:
Nursing Home Wrongful Death Lawsuit Against U.S. Government Held to Stricter Standards, June 23, 2017, Fort Myers Injury Lawyer Blog