After a 14-year legal battle, a Broward County man is set to receive $10.75 million after suffering brain injury in a Florida car accident by a speeding Broward deputy, the Sun-Sentinel reported.
Few accidents are as devastating as those that result in a spinal cord injury or brain injury. As veteran Florida spinal cord injury attorneys, we understand the importance of securing the resources necessary for life-long care.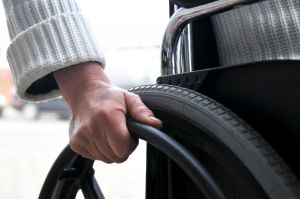 According to the Centers for Disease Control and Prevention about 200,000 people in the United States are living with a spinal cord injury. As many as 20,000 new cases occur annually. Cost of living with a spinal cord injury is estimated at $30,000 a year, with lifetime costs often exceeding $3 million.
Nearly half of all spinal cord injuries are the result of car accidents.
Brain injuries are even more common, although many of the 1.7 million cases each year involve mild TBI, such as a concussion. Still 52,000 die as a result of traumatic brain injury each year in the United States.
In this case, the 32-year-old man has lived with a brain injury that has left him largely confined to a wheelchair for 14 years after the 1998 accident. The college-bound high-school student was injured when a speeding Broward sheriff's deputy slammed into his vehicle on the way to work.
Complicating this case was law that protects government agencies from liability in excess of $200,000. It illustrates the complex nature of pursuing a government liability claim in Florida and why an experienced law firm must always be called to handle such cases.
A jury ruled that the sheriff's office should pay $30.7 million. However, liability limits prevented the payout. The family ultimately reached agreement with the Broward Sheriff's Office and its former insurance company. The $10.75 million will go to pay for the victim's care.
The settlement requires the legislature to pass a claims bill. The Senate began that process this week with a 37-2 vote.
These are very serious, complex cases. Insurance companies, and even doctors and hospitals, may quickly begin to distance themselves from liability after an accident. We have all seen and marveled at the recovery of Congresswoman Gabby Giffords after she suffered a brain injury in an assassination attempt a year ago. However, it's important to remember that the Congresswoman has had world class health care.
When it comes to rehabilitation, insurance companies may be particularly reticent. Yet it is rehabilitation that will make the greatest difference when it comes to a victim's ability to recover.
When a brain or spinal cord injury occurs, only the most experienced and resourceful law firms should be trusted with a victim's future and a family's financial well-being. Do not speak to the insurance company. Do not sign any paperwork. Do not accept any payments. And do not admit any fault.
Contact an experienced law firm to meet you at home, at their office or in the hospital. The most respected firms in the state will not charge you unless they are successful in making a recovery on your behalf.

Associates and Bruce L. Scheiner, Attorneys for the Injured, is a law firm dedicated to representing accident victims in personal injury and wrongful death claims throughout South Florida, including Fort Myers, Cape Coral, Naples, Port Charlotte and Sebring. Call for a free and confidential consultation to discuss your rights. 1-800-283-2900.