An Eagles Lodge that served too much alcohol to a patron, who in turn crashed his truck into a motorcyclist, causing permanent injury, has been ordered to pay $11.1 million in damages by a Florida jury.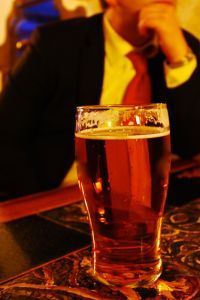 In Wilde v. Okeechobee Aerie 4137, the motorcyclist and his wife alleged that the four bartenders working for tips "grossly overserved" the 72-year-old patron to the point that he was severely intoxicated.
Cape Coral drunk driving accident lawyers understand that testimony at trial indicated the patron had been inside the club, consuming alcohol from 11 a.m. until 8 p.m. Other patrons offered him a ride, but he insisted on driving, saying if it got bad, he would sleep it off in his truck. Some described him as "falling off the bar stool."

He crashed his truck just minutes after staffers watched him stumble out the front door.
According to authorities, the driver pulled in front of a motorcyclist as he attempted to exit the club's driveway. Investigating officers determined the motorcyclist had applied his brakes and attempted to swerve, but he couldn't avoid hitting the back panel of the truck.
The driver, a past president of the lodge who was not insured and had no assets, did not stop. Police would later find him at his home, truck in the driveway. The rear panel was damaged and a glove belonging to the motorcyclist was lodged into a crevice.
By the time a blood draw was conducted on the driver, more than two hours after the crash, his blood-alcohol level measured 0.22 percent – nearly three times the legal limit.
Meanwhile, the motorcyclist had to be flown by helicopter to a hospital capable of treating his extensive injuries, which included a major closed head injury and numerous broken bones. The crash left the 56-year-old permanently disabled.
Previously a generator technician, he is no longer able to work. He now suffers from cognitive deficits that include delayed processing. He also suffers from imbalance disorder and double vision. His wife said she is overburdened as her husband's full-time caretaker. Their lives, she said, will never be the same.
The plaintiffs at trial presented evidence that the defendant driver had a long history of extreme intoxication. The bartenders, they asserted, knew or should have known that he was an alcoholic, and therefore they were negligent in serving him so much alcohol.
Florida Statute 768.125 holds that a person who either unlawfully sells or furnishes alcohol to a minor who later crashes a car and hurts someone can be held liable. This same liability can extend to damage caused by over-21 patrons if drinks are served or sold despite knowledge that the person is habitually addicted to alcohol.
The defense attempted to argue that the driver wasn't addicted to alcohol or, if he was, there was never any indication of that to the bartenders.
The jury rejected this argument, and found the motorcyclist bore zero responsibility for the crash.
The plaintiff was awarded "720,000 for past medical expenses, $2 million for future medical costs, $7 million for non-economic damages, $620,000 for past and future lost wages and $825,000 to his wife for loss of consortium.
Call Associates and Bruce L. Scheiner, Attorneys for the Injured, at 1-800-646-1210.
Additional Resources:
Okeechobee jury awards $11 million in DUI lawsuit; motorcyclist hit by drunk driver left permanently disabled, May 20, 2014, By Eric Kopp, Okeechobee News
More Blog Entries:
Car Accident Risks Skyrocket in Southwest Florida as Tourist Season Begins, Oct. 31, 2013, Cape Coral Car Accident Lawyer Blog