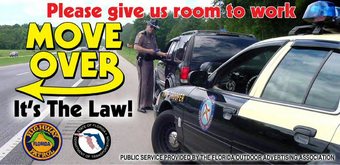 The injury of two Cape Coral police officers in separate crashes this week is a tragic reminder that motorists need to use extra caution in yielding to emergency vehicles in Southwest Florida.
Officer Damien Garcia, 26, suffered head injuries and a broken leg, according to media reports, in an on-duty motorcycle accident when Garcia's police motorcycle hit a vehicle that pulled out in front of him as he traveled south on Cultural Park Boulevard.
And a 29-year-old Cape Coral woman is facing DUI charges for a car accident that injured Cape Coral Police Officer Robert Reese, 46, over the weekend. Both the accused driver and the passenger also suffered injuries.
According to reports, Reese was traveling south on Country Club Boulevard in a 2006 Chevrolet SUV police vehicle when the accused driver failed to yield and turned across his path at Southeast 10th Street.
Because they were on-duty, the police officers medical bills and lost wages will be covered under Florida's worker's compensation laws, according to the department. However, both accused drivers could also be held criminally and civically responsible.
State law requires motorists to yield to all emergency vehicles, including police officers, ambulances and fire trucks. When emergency vehicles are running with lights and sirens, they are often not obeying the speed limit and traffic lights, and may even use the wrong side of a divided road or travel the wrong way on a one-way street to avoid congestion and get to an emergency situation. They are attempting to reach a destination where someone needs medical assistance or is in physical danger.
Give them a break. Get out of their way. Keep yourself safe and do your part in keeping our emergency workers out of harms way.
The state's Move On Over campaign also requires motorists to move over and allow plenty of room to law enforcement and emergency vehicles stopped on the side of the road.
Not only can you face increased fines for failure to yield at all times to law enforcement but, in the event of an accident you can face additional criminal charges.
If you or someone you love has been in a car accident or motorcycle accident or has been the victim of a drunk driver, our Florida injury lawyers offer free appointments to discuss your rights at offices throughout Southwest Florida, including Fort Myers, Naples, Cape Coral, Arcadia, Port Charlotte, Sebring and Venice.