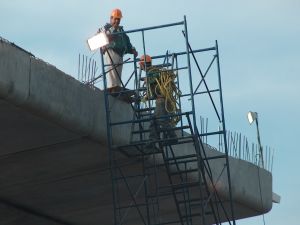 Falls are the number one cause of injury at construction sites, according to the United States Department of Labor, which has released statistics for 2007, the most recent year for which data is available.
In Florida, transportation-related deaths, workplace assaults and homicide also top the list of workplace deaths in 2007.
Construction accident attorneys and Florida injury lawyers urge construction workers to utilize safe practices on the job and to use extra caution when working with heights. Despite the economic slowdown, Southwest Florida remains home to a large number of heavy construction sites.
In all, 5,488 employees were killed on the job in 2007.
Annually, falls account for one in every three construction-related deaths, according the the Bureau of Labor Statistics. There were at least 442 construction worker fatalities during 2007 as a result of falls.
Click here for safety advice aimed at preventing falls.
Statewide, Florida's 362 work-related deaths put it with 18 other states that saw an increase in deaths in 2007.
45: Died by being struck or having contact with objects or machinery 62: Died in falls 42: Died from exposure to harmful chemicals 136: Died in a transportation-related mishap 5: Died as a result of a fire or explosion 70: Died from a work-place homicide or assault
In Fort Myers-Cape Coral, 10 deaths were reported at construction sites.
In the Naple-Marco Island area, 6 construction-site deaths were reported.
In Sarasota-Bradenton-Venice, 14 deaths were reported at construction sites.
The Miami-Fort Lauderdale area reported 120 construction deaths, ranking third in the nation behind New York-Northern New Jersey (211) and Houston (125).

Working seniors
-Those over 65 had the highest rate of death on the job, with almost 10 deaths per 100,000 workers.

Deadliest Jobs
-Commercial Fishing: 111.8 deaths per 100,000 -Logging: 86.4 -Pilots and flight engineers: 66.7 – Farming and ranching: 38.4
Construction accident attorneys and Florida injury lawyers offer free appointments to discuss your rights at offices throughout Southwest Florida, including Fort Myers, Cape Coral, Naples, Port Charlotte, Sebring, Arcadia and Venice.