A recent motorcycle accident at the intersection of Summerlin and Royal Palm illustrates the winter riding risks many of us face in coming months. One of the men who ran out to the scene of the accident is now calling on residents of the area to pay more attention to these two-wheeled motorists. According to FOX 4 News, Dr. Michael Driekorn was right there when the accident happened. He was behind the vehicle that slammed into the motorcycle. He was the first to call 9-1-1 for help.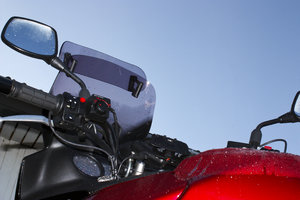 "It was like here we go again," said Dreikorn.
Our Fort Myers motorcycle accident lawyers understand that these riders are some of the most vulnerable. Not only are they provided with much less protection in the event of an accident, but they're also commonly overlooked by motorists. It's important that riders make themselves as visible as possible and it's important that drivers of passenger vehicles and other large vehicles take the extra second to look for our motorcycle friends. We all have the same rights to the road and we need to work together to make sure safety remains a common priority.
According to the Sales Director for Harley Davidson in Fort Myers, Ralph Galietti, motorcyclists are facing more and more dangers on our roadways as technology advances. He says there are drivers who are Tweeting, Facebooking, emailing and everything else behind the wheel — they're not concentrating on driving. One of the best moves that we can make as a state is to enact a law that curbs distracted driving, or using a cell phone or text messaging behind the wheel.
Take New York for example. If you're texting or talking on a phone while driving there you can wind up with a fine of $250! Florida is one of the only states left that has yet to enact any of these laws. Until we get some of these rules on the books, Galietti says, we're going to continue seeing these kinds of careless accidents.
Galietti is asking snowbirds and resident drivers to please pay attention to all motorists on our roadways.
According to the Department of Highway Safety and Motor Vehicles (DHSMV), there were close to 400 motorcyclists killed in traffic accidents in 2010 in the state of Florida. There were another 7,000 motorcyclists injured in these accidents. Many of these accidents, injuries and fatalities could have been prevented if drivers paid a little more attention behind the wheel.
As we enter the holiday travel season, we're asking all drivers to be safe. We're asking you to be a courteous driver and to keep an eye out for all motorists. We all need to work together toward the goal of safer roadways. Remember that motorcyclists have a right to be there too – and we need to recognize their presence. Keep an eye out for these vulnerable motorists, especially when making turns and lane maneuvers in traffic. That extra look can save a life.

If you or someone you love has been involved in a motorcycle accident, call Associates and Bruce L. Scheiner, Attorneys for the Injured, for a free and confidential consultation to discuss your case. Call 1-800-283-2900.
More Blog Entries:
Cape Coral Bike Night 2012-2013 Brought to You By Associates and Bruce L. Scheiner, Attorneys for the Injured, Florida Injury Lawyer Blog, September 22, 2012
Fort Myers Motorcycle Accident Claims Rider – Remember to Look Twice and Save a Life this Summer, Florida Injury Lawyer Blog, July 13, 2012