A 36-year-old Fort Myers woman was recently struck and killed by a vehicle as she attempted to cross Palm Beach Boulevard on foot between Fairview and Marsh avenues. This was the sixth pedestrian killed by a vehicle in the county since the beginning of the year – and the fifth since March 1.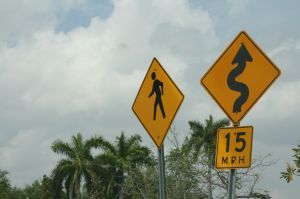 That means that so far in 2014, vehicle-on-pedestrian crashes have accounted for 37.5 percent of all traffic fatalities in Lee County.
The accident happened along a stretch of roadway that for miles is lined with neighborhoods populated primarily by lower-income households. Injury lawyers in Fort Myers have long been aware of the fact that pedestrian injuries and fatalities disproportionately affect the working class.

For one thing, these individuals tend to have less regular access to a motor vehicle, so they are more likely to be traveling on foot. But secondly, and perhaps more importantly, areas populated by lower-income tend to get less attention from municipal leaders and transportation planners.
Palm Beach Boulevard, for example, does have some sidewalks, but it has few crosswalks and medians. Despite the high amount of pedestrian and bicycle traffic along the thoroughfare, most improvements to the road have focused on widening it for vehicles. The speed limit also is rather high, making attempts to cross even more dangerous.
Even when Fort Myers passed a citywide ordinance in 2011 lowering all street speed limits to 25-miles-per-hour, Palm Beach Boulevard was among four roads that were exempted. (So were Martin Luther King Junior Boulevard and Veronica Shoemaker – also stretching primarily through lower-income neighborhoods).
Similar trends have borne out in other areas of the country as well. A recent report by New Jersey Public Radio, researchers at Rutgers found that consistently over an 18-month period throughout the state, the higher the median income level, the lower the number of pedestrian crashes. In Newark, where the number of pedestrian accidents was higher than anywhere else in the state, income levels were half that of the national median.
A recent report by the Governors Highway Traffic Safety Association indicates that nationwide, the number of pedestrian fatalities fell by more than 8 percent – after many years of increases.
Florida appears to be following this trend. State officials reported a 23.5 percent dip in the first six months of 2013 as compared to the first six months of 2012 – down to 179 from 234. That's 55 fewer deaths.
Again, those are just preliminary figures from the first half of the year, and Florida still ranks No. 3 in the country in terms of the most dangerous places for pedestrians.
Some efforts are underway to further reduce the risks, particularly Complete Streets initiatives that incorporate the needs of all users in road design. However, according to the Lee County Metropolitan Planning Organization, which is overseeing the initiative here locally, none of those projects so far encompass Palm Beach Boulevard, MLK or Veronica Shoemaker.
Call Associates and Bruce L. Scheiner, attorneys for the injured, at 1-800-646-1210.
Additional Resources:
Pedestrian hit, killed crossing Palm Beach, April 9, 2014, Staff Report, The News-Press
More Blog Entries:
Cape Coral Pedestrian Injury Highlights Risk of Social Media, March 5, 2014, Fort Myers Injury Attorney