The Naples boating accident attorneys with Associates and Bruce L. Scheiner, Attorneys for the Injured, have been tracking the outcome of a local Sea-Doo lawsuit that reached a federal jury last week — A 21-year-old Naples woman saw the $1.75 million she was initially awarded reduced to zero, the Marco Eagle reports.
The woman, who is now a Florida Gulf Coast University student, was injured after slipping from the jet-ski on May 20, 2007. As an inexperienced passenger who had never ridden a personal watercraft prior to the accident, she was unfamiliar with the potential hazards – a point that would become a key issue of courtroom debate.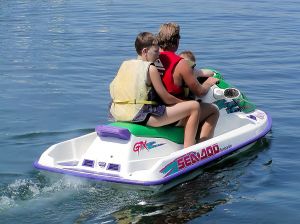 In an emotional retelling, she told the jury how she sustained serious internal injuries after water from the jet thrust shot inside her. Due to the severity of her injuries, the former cheerleader was required to wear a colostomy bag during the last few months of high school. She has ongoing medical issues from the accident and can only give birth by Caesarean section.
While the jury found the Sea-Doo driver and owner negligent, it found no negligence on the part of the manufacturer, which was the claim of the federal lawsuit.
With the holidays quickly approaching, seasonal visitors will be flocking to beach side hotels, motels and rental properties all over South Florida. That means that inexperienced and veteran boaters alike will be taking to the waterways.
Regardless of warning labels and stickers and even the advice and instruction of rental agents, it's a good idea for anyone considering boarding a boat or taking a personal watercraft for a spin to take a boater safety course before climbing aboard. At the very least, read the owner's manual and operator instructions before donning a life vest and heading out to sea.
And despite liability waivers and other actions rental companies take to protect themselves, such steps do not automatically absolve them from the responsibility associated with renting poorly maintained equipment or permitting rentals to customers who clearly lacks the skills or abilities to operate such vehicles in a safe and responsible manner. Those injured in a boating accident or JetSki accident should consult a personal injury lawyer in Fort Myers or Naples to discuss their rights.
The Florida Fish and Wildlife Conservation Commission reports that in 2009 alone, more than 70 percent of those injured in a personal watercraft accident were using borrowed or rented equipment. Operator inexperience, speeding and inattention were the top three leading contributors to South Florida personal watercraft accidents. And, the FWC further noted that most injury accidents involved a passenger or driver falling from the craft or striking another vessel or stationary object.

The Fort Myers boating accident lawyers at Associates and Bruce L. Scheiner, Attorneys for the Injured, have been representing accident victims in Southwest Florida since 1971. If you've been injured as a result of the negligent or reckless operation of a boat, we urge you to contact our firm today online or by phone at 1.800.DIAL.BLS for a free consultation to discuss your rights.