You might remember when President Richard Nixon put his signature on the National Maximum Speed Law, which reduced the top speed on all U.S. interstates to 55 mph. The law was in response to the 1973 oil embargo, and it was meant to rein in fuel consumption.
And it could happen again.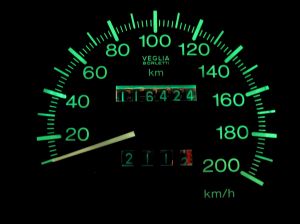 Our Fort Myers car accident lawyers understand that the same proposal is again up for debate. As you might know, speed limits are regulated by states and local authorities now. And according to MSN, there are close to 40 states that have speed limits of 70 miles per hour or higher on some portion of their road system. That's a number that's expected to rise, too. More and more state legislatures are looking at inching up local speed limits.
While many support the increase and say that it's going to help interstate commerce, there are many others who are saying that the risks for an increase in roadway fatality rates just isn't worth it.
Back in May, Illinois Gov. Pat Quinn was sent a measure to increase the speed limit on the state's non-urban interstate highways to 70 miles per hour.
Starting in July, the Ohio Department of Transportation decided to increase the speed limit on some of its roadways to help to get commercial traffic through quicker.
The faster the speed of a vehicle, the greater the risk of an accident. The forces that a body experiences also increase in an accident as the speed is increased. Most people would agree that going 100 mph is foolhardy and will lead to disaster. The problem here is that going faster than the speed limit by a mere 5 miles per hour in the wrong place can be just as dangerous — and just as deadly. Speeding is a deliberate and calculated behavior where the driver knows the risk but ignores the danger. Fully 90 percent of all licensed drivers speed at some point in their driving career; 75 percent admit to committing this offense regularly.
Could Florida be next to raise its speed limits?
According to the Florida Department of Transportation (DOT), officials are concerned about your safety. That is why we set speed limits on our state highways through the use of these familiar black and white signs. But is there a change in the future?
Unfortunately, we know that many accidents are the result of inappropriate speeds. With higher speeds, we typically see more accidents.
According to SmartMotorist.com, most accidents are caused by excessive speed or aggressive driver behavior. So at this point, it seems safer to keep the speed limits as they are.
Regardless of the speed limit, you're urged to travel cautiously and alertly. It's also important to remember that you must alter your driving habits to accommodate the weather and road conditions.

If you or a loved one has been injured in a traffic accident, call Associates and Bruce L. Scheiner, Attorneys for the Injured, today for a free and confidential consultation to discuss your rights. Call 1-800-283-2900.
More Blog Entries:
New Regulations Limit "Hours of Service" for Truckers, Florida Injury Lawyer Blog, June 18, 2013
Local Woman Killed in Fort Myers Pedestrian Accident, Florida Injury Lawyer Blog, June 14, 2013