There's going to be plenty of firework displays going on throughout Southwest Florida during the Fourth of July holiday. Many of these displays are spectacular and you're urged to join, bring along your friends and your family members.
But if you're more of the do-it-yourself type and you want to put on your own firework display, you should know the law and do your part to avoid fireworks injuries in Cape Coral and elsewhere.
Every year, firework-related injuries send about 9,000 people to the hospital. About 6,000 of these injuries happen around the 30 days that surround the Fourth of July. Have fun, but be careful!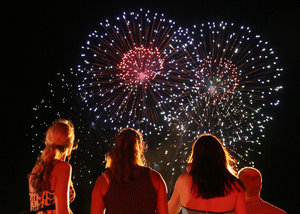 In the state of Florida law, it is illegal to light off firecrackers, torpedoes, roman candles, skyrockets, daygo bombs or any firework containing flammable or explosive compounds.
Our Cape Coral personal injury lawyers are asking everyone to enjoy their Fourth of July holiday, but we're also asking you to please treat fireworks with respect and to celebrate responsibly. You're encouraged to read all of the warning and caution labels on each firework and to use common sense. Always obey all local laws pertaining to the use of fireworks.

The National Council on Fireworks Safety offers these safety tips to help prevent a holiday disaster:
-Never use fireworks in doors.
-Always obey local firework laws.
-If using fireworks on the sidewalk or street area, assign a person to observe for vehicle traffic for safety.
-Keep some water nearby. Your best bet is to keep a bucket of water or a hose.
-Never point an ignited firework at a person. Only launch them into the air.
-Never alter or combine fireworks or use it as it's not intended.
-Do not ignite any fireworks in your hands. All fireworks should be ignited on the ground.
-Always use common sense.
-If you've got a dud firework, do not attempt to relight it. Soak it in a bucket of water for 20 minutes and then dispose of it.
-Keep firework spectators away from shooting fireworks and away from the shooter.
-The shooter of the fireworks should always wear protective glasses.
-Alcohol and fireworks are not a safe combination. Make sure the shooter is sober.
-Never allow anyone under the age of 12-years-old to handle fireworks. They should not even be allowed to handle sparklers. These devices can heat up to approximately 2,000 degrees.
-Don't try making your own fireworks.
-Always report any illegal use of fireworks to the police department or to the local fire department.
Only use legal fireworks. Officials estimate that about a third of all firework-related injuries are cause by illegal explosives or homemade fireworks.

Associates and Bruce L. Scheiner, Attorneys for the Injured, has spent forty years fighting for the rights of those injured who have been injured in Cape Coral , Fort Myers, Cape Coral, Port Charlotte, Sebring and elsewhere throughout the Southwest Florida area. Call us today to schedule a free and confidential consultation to discuss your case. Call 1-800-283-2900.
More Blog Entries:
Fort Myers Personal Injury Lawyers Wish You a Safe and Fun Fourth of July, Florida Injury Lawyer Blog, July 2, 2011