Following an auto accident, it's common practice for drivers to file a claim with an insurance company to cover the cost of repairs. After all, that's why we have insurance.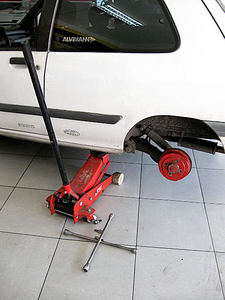 But insurance companies are always looking for ways to cut costs, and for a long time, one way they have done that is by demanding auto repair shops use after-market or recycled parts – rather than replacements from the manufacturer – to make repairs. This in turn makes the insurance claim less costly.
But now, in a federal lawsuit filed in the U.S. District Court for the Middle District of Florida, Orlando Division, hundreds of auto repair shops in 36 states are suing dozens of automobile insurers (including Progressive, Geico and State Farm) alleging that all too often, these cheaper parts are substandard – and that means consumers are put at risk of serious injury if those parts fail.

The 92-page complaint also accuses some of the insurance companies of engaging in an illegal practice of forcing consumers to take their vehicles elsewhere for repairs if the shop refuses to either use parts from the insurer's chosen supplier or if the shop won't repair the vehicle as the insurance company sees fit – even if the reason the shop won't do the work is because it's not the safest/best way to do it.
Plaintiffs say there can be situations in which used parts are acceptable and even preferable. Usually, those are situations in which vehicle owners want to save money on their own out-of-pocket costs. Even then, they need to be made aware if those parts are in any way substandard. However, that is not the exchange that is occurring, the shop owners say. Instead, it is the insurance companies who are insisting they will only pay for used or recycled parts. Most of the time, this happens with no input from the consumer, and often without even their knowledge.
Insurance companies say they aren't doing anything wrong. They insist they are doing their best to reduce costs because that in turn drives down premiums. One company representative was quoted by Nerdwallet.com as saying it would make little sense for an insurer to approve work that isn't safe because they'd still be insuring the vehicle and the driver/passengers.
However, shop owners say the industry has succeeded in creating a sub-market where cutting corners is rewarded, even when it puts customers at risk.
It's not just auto repair shops that have made such assertions. For example, the Louisiana Attorney General sued one company last year over similar allegations, saying some drivers could be using vehicles that aren't safe, and that this is a life-or-death issue.
More recently, a Connecticut congressman and Mississippi Attorney General have made a formal request of the U.S. Department of Justice to launch an investigation into these allegations. That request indicated that contrary to the insurance industry's assertions, repair shops know it's not consistent, quality repairs that will get them a sweet deal on a company's preferred list. Rather, deals are struck when shops charge labor rates that are below market and use parts that are used, salvaged or sometimes even counterfeit.
The federal lawsuit in Florida cites tests done by one large auto manufacturer that reveals when off-brand replacement parts are used in repairs, they don't resist crash force as well as the original or manufacturer reports. When parts don't fit well or are even slightly off, it diminishes the safety of not just the occupants inside, but those with whom they share the road.
Call Associates and Bruce L. Scheiner, Attorneys for the Injured, at 1-800-646-1210.
Additional Resources:
Auto Insurance Giants Accused of Pushing Cheap Repairs, April 17, 2015, By Sara Cooke, Nerdwallet.com
More Blog Entries:
Bartlett v. Commerce Ins. Co. – Timely, Properly File Auto Insurance Claims, April 25, 2015, Cape Coral Car Accident Attorney Blog