An ordinary day of yard work turned into a stay at the hospital for one Bokeelia family. According to FOX 4, a 3-year-old girl was raced to the hospital after what officials call a "severe injury" in a lawn mower accident.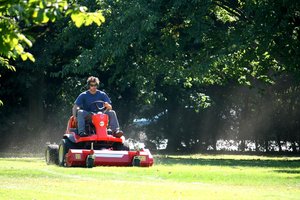 Officials with the Lee County Sheriff's Office say that the accident happened at roughly 10:30 a.m. in Bokeelia. The condition of the little girl has not been released.
But this brings up a good point about lawn mower safety. Our Fort Myers personal injury lawyers understand that over 600 children undergo lawn mower-related amputations each and every year. We need to start paying more attention to lawn mower safety as many of these accidents can be prevented with the simplest of commonsense precautions.
And this was the second accident in the state of Florida in the past week. According to the Bradenton Herald, an accident in Hardee County also sent a 4-year-old to the hospital. This child was run over by a lawnmower.
In Pinellas County, there was also a 2-year-old badly injured in a similar accident earlier this year. She had her feet run over in a lawn mower accident. This child is now walking with the help of prosthetics.
Each and every time we start a lawn mower, we're dealing with a dangerous and potentially deadly piece of equipment. These machines can cause serious injury to the feet, legs, arms, fingers, toes and anything else that passes beneath the deck. The U.S. Consumer Product Safety Commission (CPSC) reports that there were over 200,000 people (close to 20,000 of them under 19) who were treated for lawn mower-related injuries in 2007. For children who are younger than 10, major limb loss is the number one result of lawn mower incidents.
Lawn mower safety tips from the Amputee Coalition of America:
-Clear the mowing area of any objects such as twigs, stones, and toys, that could be picked up and thrown by the lawn mower blades.
-Read your mower's instruction manual prior to use.
-Always wear sturdy shoes while mowing – not sandals or sneakers.
-Never consume alcoholic beverages before or during operation as this leads to impaired judgment, which could result in serious injury.
-Teach children that a lawn mower is not a toy. They should never play on a lawn mower, even when it's turned off.
-Never allow a child to ride on a lawn mower with you.
-Don't let children play outdoors while you're mowing the lawn. Ask them to wait inside until you're done.
-Children should be at least 12 before you allow them to operate a lawn mower. It's best to wait until children are 16 to allow them to operate a riding mower.
-Use a stick or broom handle (not your hands or feet) to remove debris from lawnmowers.
-Do not pull the mower backward or mow in reverse unless absolutely necessary, and carefully look for children behind the mower before mowing in reverse.

Associates and Bruce L. Scheiner, Attorneys for the Injured, is a law firm dedicated to helping accident victims. Call us today for a free and confidential consultation to discuss your case. 1-800-283-2900.
More Blog Entries:

"The Crash Reel" Sheds Light of Traumatic Brain Injuries, Florida Injury Lawyer Blog, August 5, 2013
Hurricane Season: A Reminder to Prepare for Summer Storms, Florida Injury Lawyer Blog, June 19, 2013