Who said Monday's are quiet? A typical Monday's worth of news in Southwest Florida shows just how dangerous our roads can be at the height of tourism season. Our Fort Myers personal injury lawyers urge you to take driving safety seriously.
And please speak with your teenagers and aging loved ones. The National Highway Traffic Safety Administration reports traffic crashes are the leading cause of death among teens. The only drivers at higher risk are those over the age of 75. Staying safe behind the wheel can be as simple as not driving under the influence, not speeding, and not driving distracted. Statistics show as many as two-thirds of all fatal crashes involve one of those three activities.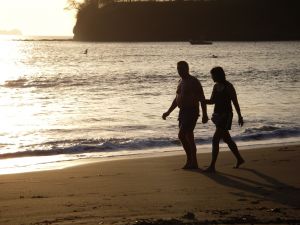 The Florida Department of Highway Safety and Motor Vehicles reports 2,563 motorists were killed in Florida car accidents last year — that's more than seven people a day. Florida is one of the leading states in virtually every major fatal accident category, including bicycle accidents, pedestrian accidents, drunk driving accidents, motorcycle accidents and trucking accidents.
A typical Monday's news:
Women Struck by Deputy's Car: A Naples bicycle accident occurred when a Collier County sheriff's cruiser collided with a bicyclist walking across the street (Warning: this links to graphic video).
Bicyclist Struck by Truck in North Fort Myers: A 57-year-old man is in critical condition after being struck by a pickup on Pine Island Road. The North Fort Myers bicycle accident occurred near Orchid Road.
Crash Causing Delays on Sanibel Causeway: Delays were reported approaching the island as a result of the Sanibel car accident.
Fort Myers Police Search for Suspects in Hit-and-Run: The Fort Myers car accident occurred when a Buick struck two vehicles at State Road 82 and Forum Boulevard.
Relative of Crash Victim wants Traffic Light at Cape Coral Intersection: The intersection of Pine Island Road and Skyline Boulevard is among the county's most-dangerous. There have been 131 accidents and seven deaths in the last five years.
Fort Myers man, 72, Suffers Minor Injuries in School Bus Crash: The Fort Myers school bus accident occurred when the man's truck was rear-ended by a bus carrying 11 elementary students.

Associates and Bruce L. Scheiner, Attorneys for the Injured, is a law firm dedicated to representing accident victims in personal injury and wrongful death claims throughout South Florida, including Fort Myers, Cape Coral, Naples, Port Charlotte and Sebring. Call for a free and confidential consultation to discuss your rights. 1-800-283-2900.