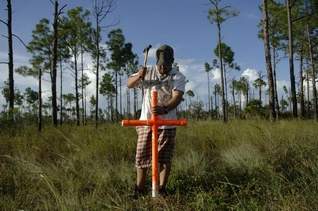 Family member Frank Casillas hammers a cross into the ground Wednesday where Brandon Castillo, 8, was hit by a van Tuesday near a school bus stop in Lehigh Acres. Brandon died from his injuries Wednesday.
(valerie roche/The News-Press)
Recent Accidents Involving Kids Serve as Wake-Up Call to Parents and Motorists
The 8-year-old Lehigh boy struck by a minivan as he waited for his school bus to pick him up has died from his injuries, according to the Florida Highway Patrol. Brandon Castillo was struck after he ran in front of a van driven by Doris Toombs, also of Lehigh, on September 22nd. The accident happened as Brandon waited for his school bus at the corner of East 10th Street and Hamilton Avenue.
According to FHP reports, the van's driver was blinded by the early morning sunlight, and did not see Brandon dart out in front of her vehicle. After the incident, Toombs, the driver of the minivan, became so distraught that she was transported to Lehigh Regional Medical Center for observation. She faces no charges in the accident.
East 10th Street is a two-mile long road with no stop signs. Area residents have told authorities that many times there is an adult at the bus stop to monitor the children as they wait for their bus. Apparently, on the day of the accident, only three students were there, without adult supervision. Although the posted speed limit is 35-mph, local residents have reported to the media that cars can often be seen traveling at high rates of speed on that road. Sadly, Brandon's death is not the only recent incident involving this stretch of road. Back in March of 2008, 21-year-old Kendall Ramjattan was killed when he lost control of his car, reportedly traveling at more than 70-mph on East 10th Avenue, and stuck a roadside pole. The accident occurred just nine blocks east of where Brandon Castillo was struck.
Focus on Safety
Florida personal injury lawyer, Bruce L. Scheiner, Founder and Senior Attorney of Associates and Bruce L. Scheiner Personal Injury Lawyers, P.A., is saddened that it takes a fatal accident to draw attention to the need for parental supervision and increased safety involving Southwest Florida's young residents. In Lee County, children are often required to wait for their school busses along some of Southwest Florida's most highly traveled roads. "Kids are going to be kids, and we as parents and guardians need to be vigilant and unwavering in our protection of them," Scheiner said. "It's almost unbearable when it takes the loss of a little boy to bring attention to the need to exercise proper supervision over our children, and our neighbor's children".
Other incidents involving children being struck by vehicles have occurred lately. On September 13th, a toddler was run over by a Hummer SUV in the parking lot of an
Immokalee church. The 1-year-old, Isikiel Lopes Andres, was just leaving services at the Bethel Assembly of God Church on West Main Street when he reportedly darted into the parking lot, and into the passenger side of the car. The vehicle's right rear tire ran over the little boy. Although the accident happened in a seemingly safe, slow traffic area, it illustrates just how vulnerable youngsters are when in the proximity of vehicular traffic.
Their tendency to run off impulsively requires added oversight by their parents or guardians in an effort to prevent these tragic accidents. According to attorney Scheiner, "These devastating incidents will hopefully be a wake up call to parents throughout our community to become more aware of where their children are; what they are doing, and how, as parents, they can adopt more intensive precautions to keep their children from becoming accident statistics."
Associates and Bruce L. Scheiner Personal Injury Lawyers works tirelessly to protect the rights of children injured or killed in an accident. Our firm has been focused on justice since 1971, aggressively fighting for those who may have suffered a tragic family loss. To learn how we may be of service, please log onto www.focusedonjustice.com, or call us at 1-800-DialBLS. Our history of almost four decades of looking out for our communities' children is just the support you need.