Associates and Bruce L. Scheiner, Attorneys for the Injured, is one again the title sponsors of the 2010-2011 Cape Bike Night Season.
Our motorcycle accident attorneys in Fort Myers, Cape Coral, Naples and the Punta Gorda/Port Charlotte areas are dedicated to fighting for the rights of motorcycle riders who have been seriously injured or killed by the negligence of other drivers. And we are proud to once again provide title sponsorship to what has become Southwest Florida's premiere motorcycle event.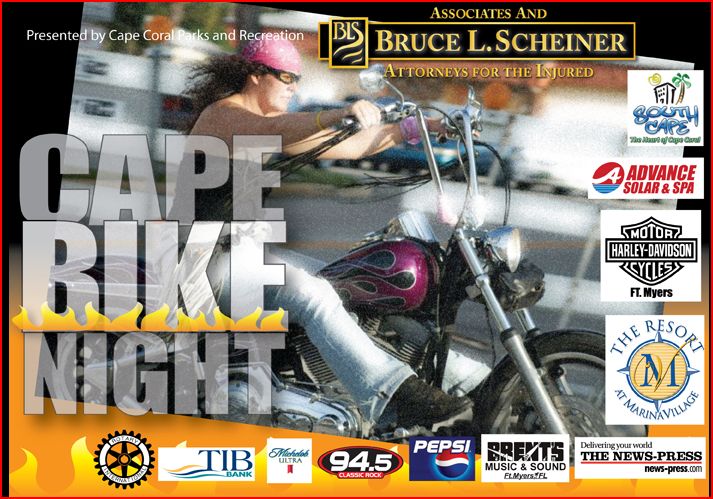 "Cape Coral Bike Night draws tens of thousands of motorcycle riders every year and has become the signature bike event in Southwest Florida," said Bruce L. Scheiner, the firm's founder and senior attorney. "We are pleased to once again partner with the City of Cape Coral and all of our friends in the riding community in supporting these family-friendly events while promoting motorcycle safety and awareness."
This is the sixth year Associates and Bruce L. Scheiner, Attorneys for the Injured, has provided sponsorship and the fourth year the firm has been the season's title sponsor, according the Cape Coral Special Events Coordinator Todd King.
"Attendance continues to grow — Cape Coral police estimated attendance at our October event was the largest ever," King said. "With the amazing support from Bruce L. Scheiner and his team, the event has continued to get better and better each year."
The event is also frequently used to raise money for charity; in October, a March of Dimes fundraiser was conducted.
The remaining three events for this year are scheduled for December 11, February 12 and April 9. Cape Coral Bike nights are held on SE 47th Terrace in Cape Coral, which is closed to motorists. The event features food and clothing vendors, live bands, raffles, prizes and thousands of motorcycles.
Event attendance typically tops 10,000 people.

Associates and Bruce L. Scheiner, Attorneys for the Injured, is a law firm dedicated to representing accident victims in personal injury and wrongful death claims throughout South Florida, including Fort Myers, Cape Coral, Naples, Port Charlotte and Sebring. Call for a free and confidential consultation to discuss your rights. 1-800-283-2900.