One sunny summer morning four years ago, a college professor was heading from a family reunion in Ohio back to her home in Maryland with two teenage sons. Her husband, not feeling well, stayed behind. As she approached a construction zone, she braked. However, the massive rig behind her did not, until just seconds before impact. That sent her vehicle careening into another semi, and then spinning into five other vehicles.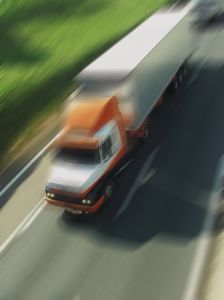 Her 16-year-old was seriously injured. Her 12-year-old almost died. He managed to survive, but now suffers permanent cognitive and physical disabilities. The 47-year-old mathematics professor, died within minutes.
The trucker would later be fired and spend time in prison. He initially admitted he'd "dozed off," having slept less than 3.5 hours since his previous shift. When he opened his eyes, he said, the vehicle in front of him was coming to a stop. He couldn't stop, he said. He couldn't veer.
"I looked for an out," he said, "But there was nowhere to go."

He later recanted that statement, but was convicted anyway.
Our Lehigh Acres truck accident lawyers know this case, highlighted recently by Bloomberg News, is one of just 4,000 fatal truck accidents that occur annually in the U.S.
Last month, four members of a Texas women's college softball team were killed when a tractor-trailer collided with their bus in Oklahoma. Officials said there is no indication the rig slowed before impact. In July, a speeding trucker slammed into three vehicles, killing five people. He was later charged with falsifying his log book, as he'd actually been on the road for 12 straight hours. And in another Illinois case this year, a toll worker died and a state trooper suffered serious injury by a trucker who had been awake 36 straight hours. He too was accused of falsifying log books.
Although the danger of fatigued truckers is nothing new, it has regained renewed interest since the June crash in New Jersey that critically injured comedian Tracy Morgan and killed another, James McNair. In that case the trucker, who worked for Wal-Mart, had reportedly been awake for 24 hours at the time of the wreck.
Amid the outcry, the trucking industry has pushed for reduced federal restrictions on hours. The current rules allow drivers to work up to 14 hours daily, with 11 hours of that being drive time. If they work 70 hours in a week, they have to rest for 34 hours, and that time has to include at least two consecutive nights from 1 a.m. to 5 a.m.
Still, truckers – and companies – have incentive to push the limit. Competition for transport contracts is fierce. That means companies are eager to present ever-lower pricing to customers. But it's truckers who often bear the burden, with longer hours and relatively low pay. Already under a decades-old exemption, truckers aren't required to be paid overtime. Instead, drivers are usually paid by the mile.
Although the industry insists only 2 percent of fatal truck crashes are attributed to trucker fatigue, a federal survey of truckers conducted in 2006 found that nearly half of all truckers self-reported falling asleep at the wheel some time in the last year. And, while only 2 percent of truck crashes may be formally attributed to fatigue, investigators can't test for lack of sleep the way they can drugs or alcohol.
Log books are supposed to help, but as the previous cases show, even those can be fudged by workers trying to squeeze in as many miles as possible.
The consequences are tragic, as the Ohio case illustrates. The father/widower ended up securing a $41 million settlement against the trucking company, most of which has been placed in a trust to ensure his permanently disabled son receives the lifelong care he will need.
Call Associates and Bruce L. Scheiner, Attorneys for the Injured, at 1-800-646-1210.
Additional Resources:
Trucker in Massive Rig Destroys Two Families in His Sleep, Sept. 30, 2014, By David Voreacos and Jeff Plungis, Bloomberg
The Danger of Forcing Truck Drivers to Drive Sleep-Deprived Exposed, Sept. 18, 2014, By Joseph Rhee and Alexa Veliente, 20/20
More Blog Entries:
Gallon v. Geico – Could Insurance Agent's Falsehood Double Payment? Sept. 28, 2014, Lehigh Acres Truck Accident Lawyer Blog