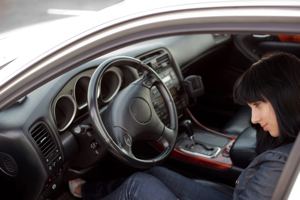 School is out, and the beach and other recreational activities are beckoning Florida's teenaged drivers. Florida injury lawyers are reminding parents that they are the best source of safe driving advice to help keep their children, and other motorists, safe behind the wheel.
The Florida Department of Highway Safety and Motor Vehicles has just launched a newly updated website – www.flhsmv.gov/teens – to provide parents with important safety information aimed at teen drivers. Traffic accidents are the number one cause of death for the nation's teen drivers, and many of those crashes are caused by actions that are easily avoidable. In Florida, a 15 year old teen may obtain a restricted driver's permit, often referred to as a "learner's permit", and drive a vehicle only while accompanied by a licensed adult driver over 21 years old, and under certain other restrictions.
"Oftentimes, the excitement of receiving a new license can overshadow the common sense safety practices of Florida's younger drivers", according to Bruce Scheiner of Associates & Bruce L. Scheiner Personal Injury Lawyers. "The new section of this website is an excellent resource for parents who want to keep their kids safe on Florida roadways."
Florida was the first state to adopt a graduated driving licensing system, or GDL. This system allows teen drivers to take specifically designed steps in not only obtaining their driving privileges, but to learn safe driving techniques and the laws that govern their use of a motor vehicle. Teens face the greatest risk of being in a car crash at 16 years of age, and 306 Florida teens between the ages of 15-19 died in auto accidents in 2007. Studies have shown that teens are less likely than adults to understand the risks associated with driving, simply due to their lack of practical experience.
Florida teen drivers must progress through three licensing stages: Learner's License, Operational License, and Full License.
To obtain a Learner's License, the driver must do all of the following:
be at least 15 years old;
provide a Social Security Number;
show proof of completion of a Traffic Law and Substance Abuse Education course, or a license from another state, county, or jurisdiction;
have a legal guardian sign the Parental Consent Form in the presence of the driver license examiner; and
pass the required written test covering road rules and signs, a hearing test, and a vision test.
The holder of a Learner's License may not drive alone, regardless of age, and if under 18, must hold the license for 12 months before advancing to the next stage. The driver is restricted from driving after dark for the first three months, and after 10 p.m. from months 4-12.
The state's website provides excellent advice and detailed explanations of Florida's driving laws, and the legal consequences associated with breaking those laws. While your teen may be the one who has just received his/her new license, it is actually the parents who are in the driver's seat when it comes to ensuring their children learn and employ safe, responsible driving habits. A recent survey found that 89% of teens view their parents as the best source of reliable information related to safe driving.
Florida personal injury lawyers urge parents to use this opportunity to keep your kids safe while on the road, enabling them to enjoy their newly found freedom and remain accident free.