Property owners are responsible for maintaining the site in a way that ensures it is safe from unreasonable hazards for guests. When it comes to businesses and public buildings, that includes the parking lot area.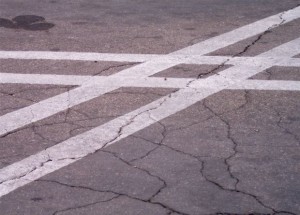 That means owners have a duty to fill cracks and holes in the walking surface. That means making sure any variations in walking surface height should either be gradual or there should be a warning to pedestrians about the potential hazard. It also means making sure there is adequate lighting, adequate security and regular inspections for areas or aspects that might pose a fall risk, such as oil, cracked wheel stops or other debris.
Failure to do this can result in litigation if someone is injured as a result, and the danger wasn't obvious to the person who was hurt.
A number of recent lawsuits have stemmed from parking lot trip-and-falls.
One of those was a New Jersey case in which a woman sustained injuries after reportedly tripping over a spike in a doughnut shop parking lot. According to news reports, plaintiff had just purchased several hot coffee drinks, which she was carrying out in a tray. That's when a misplaced metal rebar spike, sticking up from the ground, caused her to trip. As a result she not only fell and suffered serious injury to her back and shoulder, but also severe burns as a result of of the coffee spilling on her.
She was required to undergo surgery for the pain in her back and shoulders.
Plaintiff filed a premises liability lawsuit against not only the store, but the owner of the strip mall property where that store was located.
The case settled shortly before it was to go to trial.
Defendants might have had an opportunity to assert a defense that the spike was an "open and obvious danger." That is, the spike stuck out from the ground and was obvious, therefore plaintiff had a duty to try to avoid it. However, plaintiff likely could have argued the "distraction exception," which would have asserted she was foreseeably distracted by carefully carrying a tray of hot coffee to her nearby vehicle. She also might have argued that allowing a metal spike to protrude from the asphalt is a clear violation of public safety standards.
Both of these issues were likely floated around in negotiations, but ultimately, the two sides settled the case for $522,000.
In another case that is still pending, a Texas woman filed a lawsuit against a hotel for premises liability after she tripped and fell in a parking lot. In that case, plaintiff alleges there was a sharp dip in the walkway, but there was no slip resistant paint, tread strips or other surface treatments that would have prevented her from slipping on the surface when it was wet.
The fall happened in 2014. Plaintiff alleges the hotel failed to maintain the property, resulting in a dangerously defective walkway. She suffered several broken bones and had to undergo surgery. She is seeking damages in excess of $75,000 for her losses.
These cases are not as simple and straightforward as they often seem, so it's important for injury victims to seek legal advice from an experienced law firm.
Call Associates and Bruce L. Scheiner, Attorneys for the Injured, at 1-800-646-1210.
Additional Resources:
New Jersey Dunkin' Donuts settles personal injury lawsuit for $522,000, Sept. 15, 2015, By Anita Balakrishnan, CNBC
More Blog Entries:
CDC: 4.2 Million Americans Concede to Driving Drunk in Last Month, Aug. 22, 2015, Fort Myers Trip-and-Fall Lawyer Blog