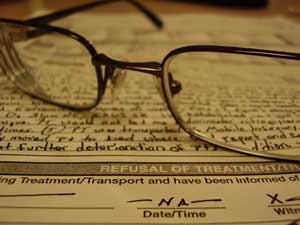 A 2004 Florida law requiring that older drivers pass a vision test before getting a license renewed has helped cut the death rate among drivers aged 80 and older by 17%, according to researchers at the University of Alabama at Birmingham. Driving is often vitally important for seniors. Several studies have shown that taking the keys from elderly drivers who have no other transportation can cause them to become depressed or inactive, lose access to health care and even die sooner. However, Florida injury lawyers remind drivers of all ages that proper vision can be a key factor in preventing serious car crashes.
"While it is true that poor vision in a driver of any age can be the cause of a serious auto accident, the number of senior-aged drivers in Florida makes this an important safety concern on our roadways", notes Bruce L. Scheiner, of Associates & Bruce L. Scheiner Personal Injury Lawyers.
For Florida drivers over 80 years old, the vision test may be taken at a Florida driver license office at no additional charge, with an appointment made in advance, according to the Florida Department of Safety and Motor Vehicles. Another option is to have a doctor licensed to practice in Florida administer the vision test – out-of-state doctors are not authorized to provide this test. He or she must be a medical doctor, osteopathic physician, or an optometrist. If a doctor administers the vision test, a Mature Driver Vision Test, (Form HSMV 72119), must be completed and submitted to the department. The doctor may also file the form electronically to the agency's web site, http://www.flhsmv.gov/. If the test reveals a problem, the driver will be requested to have an eye specialist licensed in the state of Florida complete a Report of Eye Examination, (Form HSMV 72010), and submit it to the department prior to renewing their license.
From 2001 to 2006, overall motor vehicle collision death rates in Florida increased by 6%, from 14.61 to 14.75 per 100,000 people per year. However, death rates among elderly drivers decreased by 17%, from 16.03 to 10.76 per 100,000. Eye problems such as macular degeneration, sometimes referred to as a "hardening of the arteries" in the eye, can lead to reduced acuity in the central vision specter. Described as a general cloudiness over the retina, macular degeneration can increase with age, creating a danger for those who attempt to drive with the condition. Yet, all facets of visual health are taken into account when a driver gets behind the wheel of a vehicle. Distance vision, peripheral vision, the ability to discern colors, night vision and the ability to adequately adjust between close-up and distance vision are crucial elements of safe driving.
Never has the phrase "keep your eye on the road" been more appropriate. If you or someone you know is having trouble driving safely due to vision problems, Florida injury lawyers urge you to schedule immediate tests and screening to determine if continuing to drive is the correct option.