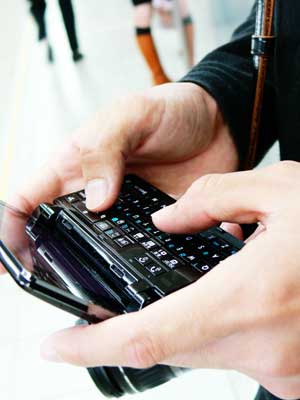 With the advent of cell phone technology comes a new hazard to motorists on our nation's roads – "texting" while driving is quickly becoming a prominent and extremely hazardous threat to driver safety. According to USA Today, 14 states now have laws on the books banning the sending or viewing of text messages on cell phones or other electronic personal communication devices, with many more now proposing similar restrictions. Many have also advocated a federal ban.
It is not only teens or younger drivers who are guilty of this offense. Florida personal injury lawyers are cautioning that drivers of all ages and walks of life are likely to cause a serious or even fatal auto crash due to being distracted behind the wheel. Often referred to as "DWT", driving while texting can be as serious an offense as drunk driving, and state legislators across the country are taking a proactive position to prevent the practice.
A bill is making its way through the Florida Legislature that would prohibit sending cell phone text messages while driving. According to the Associated Press, the text messaging ban was added onto a bill sponsored by Florida Senator Carey Baker, (R-Eustis), that would make it illegal for minors to talk on a cell phone while driving. If the ban goes through, Florida would join other states in cracking down on texting while driving. Similar bills have been proposed, but have not passed, and this one still has a long way to go before it becomes law. Not surprisingly, lobbyists and representatives for the Florida Telecommunications Industry Association feel that their industry is being unfairly singled out, and are attempting to counter any laws being passed that they feel are too specific or restrictive.
A Nationwide Mutual Insurance Company study found that 19% of all drivers — and 37% of drivers between the ages of 18 and 27 — text message behind the wheel. One in seven drivers admit to sending text messages while driving, and among 18- to 24-year-olds, it's even higher – one out of two drivers. On its Web site, the National Safety Commission, (http://www.NationalSafetyCommission.com), crediting recent academic studies, says that "using a wireless communications device while driving is one of the most significant distractions that affects driving performance."
"The relative risk, frequency and duration of cell phone use and text messaging make these activities much more likely to lead to a crash or near crash than most other activities people do in vehicles," the Commission wrote. It recently called on drivers to stop using cell phones and messaging devices, implored businesses to execute policies prohibiting such usage, and urged all 50 states to pass legislation prohibiting the use of cell phones while driving.
While there are currently no statistical numbers relating to the number of vehicle accidents involving text messaging while driving, today's headlines are an indicator of the seriousness of the practice. In Rochester, New York, five teenage girls were killed in a horrific accident after crashing into a tractor-trailer in June, just a week after their high school graduation. Investigators have determined that the driver of the vehicle containing the teenagers was texting immediately prior to the crash. Sadly, these types of stories are becoming a regular occurrence across the country, as well as right here in Southwest Florida.
"Everyone seems to have heard of the seriousness and devastating consequences related to DUI car crashes," according to prominent Florida injury attorney Bruce L. Schenier.
"Unfortunately, with the advent of today's personal communication technology, the dangers of texting while driving is often downplayed or dismissed as less important."
Florida personal injury lawyers urge all drivers, especially teens and younger drivers who may be more prone to texting while driving, to focus 100% of their attention on their driving and restrict their use of cell phones to when they are not behind the wheel of a car.